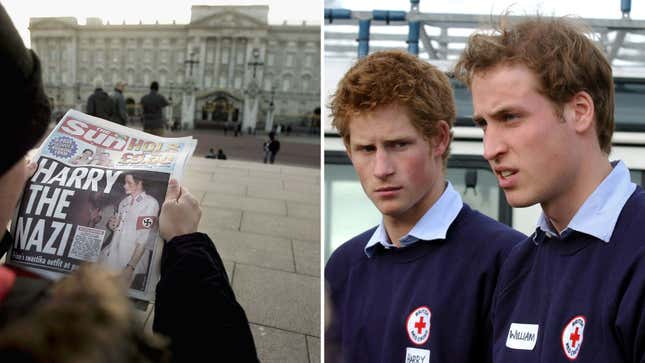 Prince Harry's new memoir, Spare, doesn't come out until January 10, but at this pace, all of its major bombshells will have been revealed by the time the book is available to the masses. In one excerpt reported by the Guardian Wednesday night, Harry claims that a fight about his wife, Meghan Markle, with his brother, Prince William, got physical, and William pushed him to the ground, leaving marks on his back. Additionally, Page Six revealed that in the book, Harry blames William and Kate (née Middleton, now Princess of Wales) for his infamous public appearance in a Nazi costume in 2005.

For the "colonial and Native" themed party (sometimes the British aristocracy is just too painfully, horrendously itself), Harry had two options: pilot or Nazi. Just think on that for a second…pilot or Nazi. Pilot...or Nazi. Pilot or...Nazi. We all know which one he chose—but, he says, it was at William (whom he calls Willy, lol) and Kate's urging that he chose to model himself after a soldier of the Third Reich.
He called them up to ask their advice: "Nazi uniform, they said." When he tried it on for them, "they both howled," he writes, according to Page Six. It was "way more ridiculous" than ole Willy's plan to wear a homemade lion costume— "which, again, was the point."
The prince sporting a massive swastika armband infamously made the front page of the Sun—an invasive, right-wing British tabloid against which Harry and Meghan have since waged legal war (for an entirely different matter)—and Harry was rightfully, roundly criticized. At the time, he was 20 and William was 22.

A 2020 book by royal historian Robert Lacey suggested that this moment was the beginning of Harry's rift with his family: His brother had been expected to teach him how to behave in a manner becoming of a prince and apparently did the opposite—then left him to fend for himself in the face of public scrutiny.

And sure, on the one hand, it seems like Will and Harry's relationship was already destined to sour: As Guardian columnist Gaby Hinsliff wrote of the shoving incident (but probably extends to much of their relationship), in Harry's eyes, William was "acting like an heir: the chosen one, around whom everything else seemingly revolves." That's not going to go down well for either brother, however true it may be.
But on the other, Harry was an adult—"Nazi" should not have been in his costume rotation—and is an even older adult now. To blame one of the most offensive things he's ever done on his brother (and sister-in-law) at the age of 38 feels childish at best and intentionally refusing to be held accountable at worst. (This is, of course, all made worse in the context of the Windsors' history of Nazi-sympathetic family members.)
For a book that was basically being kept under lock and key before its release, Spare's juiciest details sure are making the rounds. But given the reception Meghan and Harry's Netflix docuseries received in December (it was widely considered to be a bit boring, and failed to be particularly introspective or incisive), the cynic in me suspects that their team wants to guarantee the public that this time, the couple's self-induced over-exposure is coming with some appropriately scandalous stories.