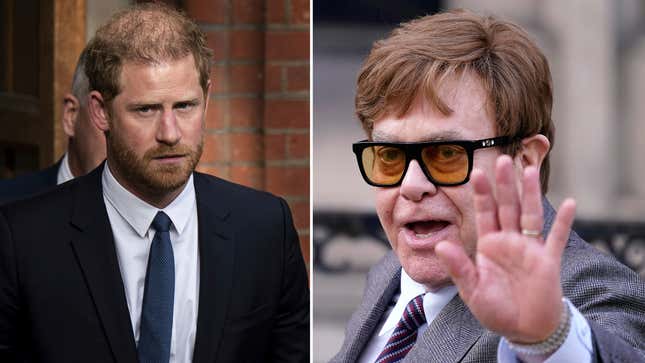 Prince Harry and Elton John made surprise appearances in court in London on Monday, as a publisher for multiple British tabloids asked a judge at the High Court to throw out a case alleging years of phone hacking and invasions of privacy targeting several high-profile British figures. Harry and John are among other stars, including Elizabeth Hurley and Sadie Frost, who say the tabloids bugged their phones, broke into their homes, or engaged in other illegal behaviors to gather dirt on them. That Harry and John physically showed up at court and reportedly took notes throughout the hearing signals the seriousness of the case, per the Associated Press.

Taylor Lautner Doesn't Even Remember Saying 'Bella! Where the Hell Have You Been Loca?'
The tabloid publisher in question, Associated Newspapers Ltd., publishes U.K.-based tabloids like The Daily Mail and The Mail On Sunday. According to the suit, it engaged in a range of pretty heinous acts, including illegally obtaining the birth certificate of John's first child with husband David Furnish about a decade ago, before Furnish and John accessed it themselves. Harry, who's also suing the Mirror over a separate hacking incident, has alleged that Associated Newspapers illegally obtained private information about his former, seven-year relationship with jewelry designer Chelsy Davy.
The publisher also allegedly hired a private investigator to hack Hurley's phone, attaching a mini-microphone to a window of her home and bugging her then-partner Hugh Grant's car to access medical information about Hurley's pregnancy. The allegations against the publisher span mostly from 1993 to 2011, but some are also from 2018 and even more recently.
In turn, the suit alleges that to cover up its illegal practices and surveillance of public figures, tabloids sourced their stories to nonexistent "friends," "family sources," or "palace insiders." The hearing, set to conclude on Thursday, comes at an increasingly fraught time for data privacy—certainly around pregnancies like Hurley's—and amid ongoing problems with cyber sexual attacks on female celebrities through hacking and nonconsensual dissemination of private photos.
Associated Newspapers claims the suit can't move forward, as it relies on information that the publisher submitted back in 2012 in confidentiality for a probe into media ethics. Associated Newspapers' lawyer, in other words, is turning public figures' allegations back on them, claiming the publisher has had its privacy invaded rather than the other way around. (American cops argued the same ridiculous thing about Afroman last week, incidentally.)
This week's hearing comes roughly a decade after controversy involving Rupert Murdoch's News of the World and other tabloids owned by him, ultimately leading to criminal convictions for employees of the tabloid accused of phone hacking, police bribery, and other violating actions to stalk and surveil public figures, including members of the British royal family. One former tabloid employee who spoke out about his employer's actions in 2011 was found dead 2011 shortly after. Public testimony from Ruper Murdoch confirmed the illegal practices and a widespread cover-up.
Today, the tabloid publisher seems to argue it can't be sued by Harry and other public figures participating in the suit because any legal action should have been taken years ago. "It would be surprising indeed for any reasonably informed member of the public, let alone a figure in the public eye, to have been unaware of these matters," the defendent's attorney, Adrian Beltrami, wrote in court filings.
The suit against Associated Newspapers, in addition to Harry's lawsuit against the Daily Mirror, is part of a broader pushback from the prince against British media shadiness. His wife, Meghan Markle, won her lawsuit against Associated Newspapers in 2021 claiming the publisher had invaded her privacy by publishing her private letter to her estranged father. Harry and Markle have also both spoken out about British tabloids' racist mistreatment of her.
Media intrusion has been an ongoing problem that the couple have struggled with for years—it notoriously led to the tragic death of Harry's mother, Princess Diana—and Harry's presence at Monday's hearing suggests he is ready for all-out war.