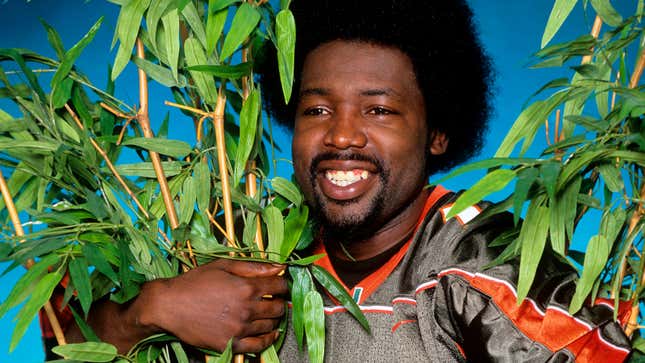 When life gave Afroman lemons, he made "Lemon Pound Cake."
The singer-rapper (née Joseph Edgar Foreman), best known for his early-internet viral hit "Because I Got High," made a series of songs and social media posts inspired by and using security-cam footage from an Aug. 21, 2022, drug raid on his Adams County, Ohio, house that resulted in no charges or arrests. The content included TikTok and Instagram posts, as well as the songs (and their accompanying videos) "Will You Help Repair My Door"—in reference to the door that the cops knocked off its hinges to gain entry to his home—and "Lemon Pound Cake," an "Under the Boardwalk" spoof fixated on a moment picked up by the security cameras in which one of the raiding officers eyed a cake that was sitting on the counter in Foreman's kitchen.
Now, the Adams County Sheriff's Office has sued Foreman for using the footage of their search. According to CBS News: "The officers accused Foreman's use of their images and likeness as a 'malicious' act that tarnished their reputation and humiliated them, according to a complaint." CBS says the department has demanded a jury trial, claiming Foreman committed "unauthorized use of individual's persona, invasion of privacy by misappropriation and invasion of privacy by false light publicity, among other things." Got that? The police department that invaded Foreman's privacy is suing him for...invasion of privacy. Life is but an Onion headline.
In interviews with Vice and Vlad TV conducted earlier this year, Foreman said that he believed the cops wanted to kill him. He told Vlad that he believed the search, whose warrant reportedly sought drugs and paraphernalia and cited potential drug trafficking and kidnapping, stemmed from his marijuana-oriented content. He said they took a vape pen that wasn't his, pipes sent to him from fans (he doesn't smoke out of pipes), and $400.
In a news clip that Foreman posted on his Instagram, it was reported that about $5,000 in cash was seized from his house, and when it was returned, it was short $400.
During that report, Foreman claimed he would be filing a defamation suit against the county and that the raid had caused him to lose work. Adams County Sheriff Kimmy Rogers told Vice that an investigation from a neighboring sheriff's office was underway regarding the missing cash. Additionally: "...I don't appreciate some of the messages coming in about Adams County deputies getting ambushed, 'I hope they die slow.' It's kind of tolling on some of the officers. I doubt that your family would want that said about you."
Foreman told Vice that the point of his frequent posting on the incident was to shed light to police harassment: "From what I understand, these sheriff's officers in this county have been doing people dirty for a very long time and getting away with it. But nobody has the publicity or the eyeball that I can put on 'em like me." He also told the outlet: "I hate to keep singing that old racism song, but gee whiz, man, I really don't know. You didn't have to raid my house with guns for a vape pen somebody else left at my house. I don't have a million pounds of weed in my house. I don't have enough weed in my house to get them to run up my driveway and react like that."
To Vlad, he admitted the raid was a boon to his creativity. "When they kicked down the door, they gave me relevant, interesting material," he said, comparing his prior lack of subject matter to being like "a carpenter with no wood." "They brought the wood," he said.
Foreman posted on Wednesday a lengthy response to the Adams County Sheriff's Office's lawsuit on his Instagram, whose caption read in part, "My video footage is my property... I used it to identify criminals, who broke into my house, stole my money and disconnected my home security system. I use my footage of my property to raise money to pay for the damages they done and to identify the criminals operating inside of the sheriff department that stole my money [ransack] my house and disconnected my video cameras." He said he planned to countersue. More recently, he posted a video comparing the Adams County Sheriff to Will Smith and himself to Chris Rock.
"The Adams County Sherrif has selective outrage," he said in the clip. "It's all kinda meth houses, and all kinda real life, active meth labs in Adams County, but the Adams County Sheriff has selective outrage." And then he chuckled.
Already, it's clear that this lawsuit put even more wood on Foreman's pile. Don't expect him to stop talking about it any time soon, either. For a sheriff's department so wrapped up in its image, they sure did Streisand Effect this story into a major news item. Pretty dumb, and they can't even blame it on getting high.