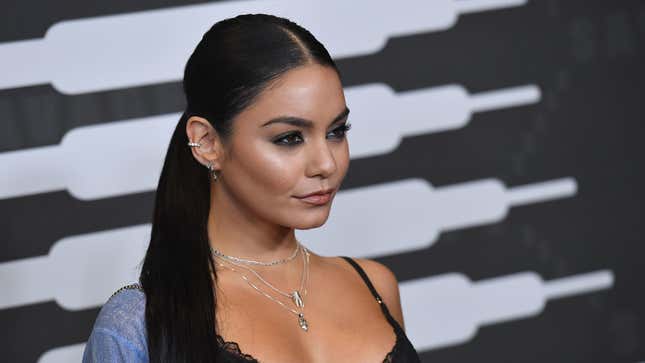 Vanessa Hudgens is currently the star of a series of excellent Netflix Christmas films, but in 2007, she was the subject of a fairly awful and public nude photo leak after someone hacked her phone. It fucking sucked!
Ana Gasteyer Satirizes the Girl Boss in 'American Auto'
"It was a really traumatising thing for me," Hudgens told Cosmopolitan UK recently. "It's really f*cked up that people feel like they are entitled enough to share something that personal with the world."

Hudgens was a Disney Channel star at the time, and instead of holding the hackers who violated her privacy responsible, Disney threw her under the bus, putting out a statement claiming they hoped she learned a "valuable lesson." Hudgens also had to publicly apologize to her fans for, I assume, having the audacity to be an 18-year-old with a cell phone.
"As an actor, you completely lose all grip of your own privacy and it's really sad," she said. "It feels like that shouldn't be the case, but unfortunately if enough people are interested, they're going to do everything they can to get to know as much about you as they can, which is flattering, I guess, but then people take it too far and end up divulging things that should be personal."
G/O Media may get a commission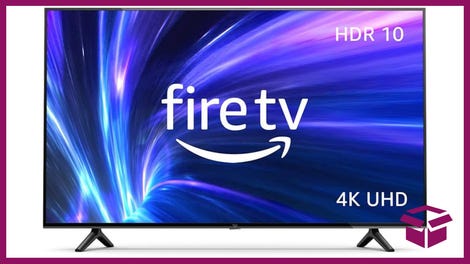 42% Off
Amazon Fire TV 50" 4K Smart TV
Hudgens also gave Cosmpolitan her take on Me Too, and working with men in Hollywood who stepped over the line:
"I have been talked to in ways that are not appropriate. I have been in situations where I've been talked to in inappropriate ways, but right then, in that moment, I was the person to just say, 'No. Why would you say that? You're completely out of line.' I'm the type of person in any situation, whether it's an audition or in work, if I feel uncomfortable, I'm going to walk away or let that person know they're making me feel uncomfortable. Then, if they don't respect that, they can go f*ck off. If someone doesn't like that, literally they can f*ck off.
Yes. [Cosmopolitan UK]
---
Dolly Parton's husband left the house!
The Daily Mail reports that the famously reclusive Carl Dean was spotted last month leaving the Brentwood, Tennessee house the couple share. It's his first sighting in 40 years!
Fans are reportedly not happy about the photographs, since Dean notoriously hates the spotlight and stays out of it, and Parton keeps details about their relationship quite private. Which is fine! Everybody's doing their own thing. [Daily Mail]
---
Cameron Diaz and Benji Madden had a baby! They named it....Raddix.
People are free to name their babies whatever they wish, of course, but it is slightly noteworthy that 'Radix' is also the name of white nationalist Richard Spencer's white supremacy journal, as noted online by reporter Gaby del Valle. Perhaps a nickname is a good idea? [Instagram]
---