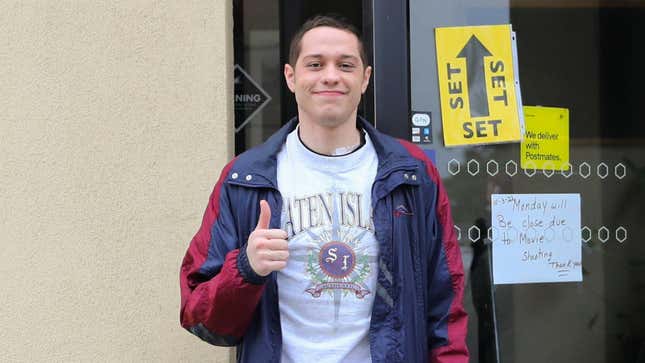 What's a famous man to do when he just wants to be heard, when he feels like the truth has been obscured, when he can't get in a word? Why, he makes an appearance on a fellow famous man's podcast while wearing matching whalebone gray beanies, as comedy bros are wont to do!
Jennifer Hudson Achieves EGOT Status, is True American Idol
Speaking of whalebone, it seems Pete Davidson has a bone to pick with the public regarding his dating life, according to Page Six. On Thursday, Davidson appeared on the Real Ones with Jon Bernthal and explained to the actor that, to him, dating 12 people in ten years isn't "that crazy" and called the purported backlash to his dating habits "confusing." Davidson is currently dating his Bodies, Bodies, Bodies costar Chase Sui Wonders, but he was dating Emily Ratajkowski before that, Kim Kardashian before that, Phoebe Dynevor before that, and Kate Beckinsale, Margaret Qualley, Kaia Gerber, Cazzie David, and Ariana Grande before that.
"I'm not on Instagram. I'm not on social media. I'm not, like, flexing, you know what I mean?" the 29-year-old said, clarifying that he met all of his paramours "at work [and] wasn't in anyone's DMs."

Though he doesn't find his love life "interesting," Davidson said it was "all anyone [will] talk about." Even Saturday Night Live, while he was still on the show in 2022, teased him for his romantic endeavors: "The show just made fun of you, so why [is the audience] going to laugh at you? They just dogged you!"

Here's the thing, Petey Baby. No one is laughing about you somehow being able to charm some of the most conventionally attractive and famous women in the world. That's actually quite impressive for a schmuck. We are laughing at the blatant publicity campaign behind it: paparazzi huddled in position at precisely the right moment to catch you eating pizza with Kimberly or heading out on the town with EmRata or being an All-American Boy at Daytona with Chase.

It's ok for you to date up! What we don't like is the idea that you might be using hot women as a vehicle for amassing more clout. We don't hate a loverboy, and we highly approve of people of all genders being free to pursue their, um, dalliances as they wish. But we do hate a clout chaser, and you do not need any more clout.

Be free, my little butterfly (of your worries and your publicist's advice).