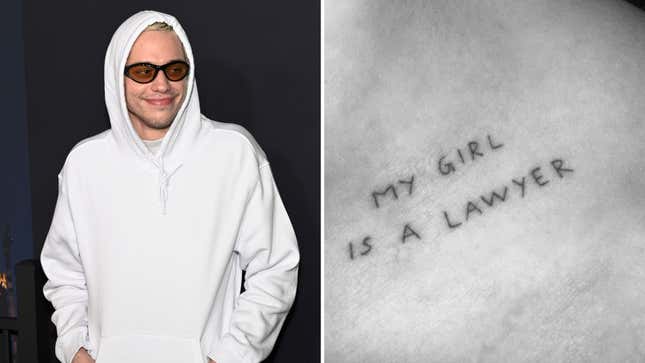 With the entire world either eager or forced to know about Pete Davidson's love life, there's at least one surefire way to know where his romantic loyalties lie: Just look at his current tattoo tableau. Davidson appears to have had his tattoos dedicated to Kim Kardashian removed, so it's safe to assume they are done-done. Though, I don't think anyone was holding their breath.
Don't Feel Bad if You Can't Achieve the 'Clean Girl Aesthetic'
Davidson was spotted shirtless in Hawaii over the weekend with rumored girlfriend Chase Sui Wonders, his co-star from Bodies Bodies Bodies, and missing in action were all four tattoos. I maintain that Davidson could have kept the "My Girl Is a Lawyer" tattoo and just start dating Gloria Allred. But alas.
Over the course of Kim and Pete's nine-month romance, Davidson got at least four tattoos dedicated to her: "KIM" branded on his chest, "My Girl Is a Lawyer" on his clavicle, the initials of Kardashian and Kanye West's four kids also on his clavicle, and the names "Aladdin" and "Jasmine" in honor of the roles they were playing on Saturday Night Live when they first kissed. Personally, that is four too many stupid tattoos to get for someone who hadn't yet finalized their divorce.
The couple split up in August of 2022 due to the "long distance" and "demanding schedules," according to Page Six. I bet! Tattoos can take a long time to get and have removed. How was Pete supposed to fit quality time in with Kim?!
Davidson's current fling with Sui Wonders is a lot more convincing than the PR set up between him and Emily Ratajkowski in December. For example, they are actually smooching and not just posing awkwardly in front of their apartments for staged paparazzi shots. It must be love. Can't wait to see what future tattoos he'll have removed for her.

---