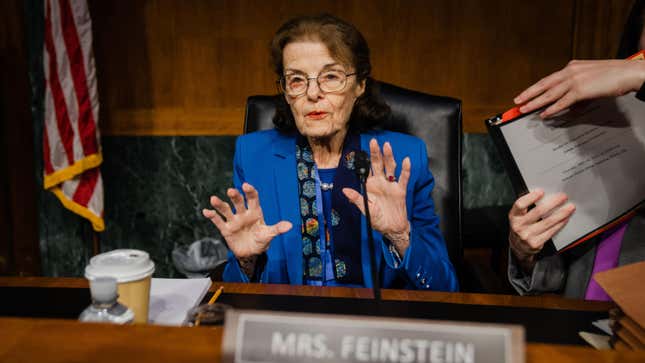 Sen. Dianne Feinstein's (D-Calif.) much-discussed case of shingles that led to her months-long absence was apparently much, much worse than her team had let on. The New York Times reported Thursday afternoon that the shingles spread to her face and neck, resulting in vision problems and Ramsay Hunt syndrome, a type of facial paralysis.
Republicans Pull Out All the Stupid Stops While Debating Abortion
But most troubling? Her brain was swelling.
Per the Times:
The virus also brought on a previously unreported case of encephalitis, a rare but potentially debilitating complication of shingles, according to two people familiar with the senator's diagnosis who spoke on the condition of anonymity to describe it.
Encephalitis brought on by shingles can result in memory and language deficiencies, confusion, and headaches, among other complications. And we're discussing the brain health of a U.S. senator on the Judiciary Committee, who already had staffers saying a year ago that she'd been "mentally unfit" to serve for years before that. Several weeks before her husband's death in February 2022, there were whispers of her mental decline. One California Democratic lawmaker told San Francisco Chronicle that they had to reintroduce themselves multiple times and Feinstein kept repeating small talk during the course of a multi-hour conversation.

The senator referred only to "complications" in a statement to the Times: "I'm back in Washington, voting and attending committee meetings while I recover from complications related to a shingles diagnosis. I continue to work and get results for California."
In January 2020, New Yorker's Jane Mayer reported that then-Senate Minority Leader Chuck Schumer (D-N.Y.) was trying to get Feinstein to step down from her leadership on the Senate Judiciary Committee. Only, Feinstein couldn't seem to retain the conversations. "She wasn't really all that aware of the extent to which she'd been compromised. It was hurtful and distressing to have it pointed out," an anonymous source told Mayer, adding, "It was like Groundhog Day, but with the pain fresh each time."
During this latest bout of illness, Feinstein was reportedly rebuffing calls from her California colleagues during her recovery. Gov. Gavin Newsom (D) called her personal phone, got an aide, and never received a call back from the senator. Sen. Alex Padilla (D-Calif.) offered to visit in person and was rejected. "Even some family members who wanted to see her were turned away," the Times wrote.
Apparently, Schumer's calls were the only she'd take. He was there to greet her personally upon her arrival at the Capitol building. "After talking with her multiple times over the past few weeks, it's clear she's back where she wants to be and ready to deliver for California," he said in a statement about "his friend Dianne" when she returned to work this month.
The news about Feinstein's previously undisclosed brain swelling comes days after she bizarrely insisted to a reporter that she actually hadn't been absent from her job at the Capitol all this time. "No, I haven't been gone," she told Slate's Jim Newell on Tuesday. "I've been working."
When Newell asked if she meant she'd been working from home, Feinstein replied, "No, I've been here. I've been voting." Hm.