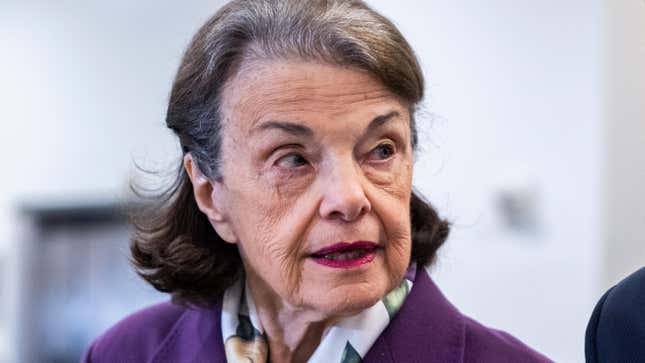 California Sen. Dianne Feinstein (D) is reportedly on her way to Washington, D.C., for the first time since mid-February, as she faces calls to resign. The 89-year-old lawmaker has missed more than 90 votes while recovering from shingles, and her absence has not only slowed the confirmation of judges, but also made it more difficult for Democrats to hold accountable various scandal-ridden Supreme Court justices.
What Questions are Senators Asking Ketanji Brown Jackson About Abortion?
The San Francisco Chronicle reported that sources close to Feinstein said she boarded a chartered private plane Tuesday, and spokesperson Adam Russell confirmed it. The Chronicle said Feinstein "could return to the Senate as early as Tuesday evening."
Feinstein previously said she wouldn't seek re-election, but would stay in office until the end of her term in January 2025. In April she told Senate Majority Leader Chuck Schumer that she wanted to be "temporarily" replaced on the powerful judiciary committee, but Republicans blocked the move. She's likely also needed for the upcoming debt limit fight; the U.S. could default on its debts if Congress doesn't raise the debt ceiling by June 1.
Over the weekend, the New York Times editorial board said if Feinstein "cannot fulfill her obligations to the Senate and to her constituents, she should resign."
Schumer had hinted recently that Feinstein could be returning soon, telling reporters on May 3 that they'd spoken and both were "hopeful that she can come back next week." On May 4, Feinstein claimed in a statement, "There has been no slowdown" on judicial confirmations, and said she'd return to the Senate but didn't say when.
On Tuesday, Schumer told the Chronicle: "I'm glad that my friend Dianne is back in the Senate and ready to roll up her sleeves and get to work. After talking with her multiple times over the past few weeks, it's clear she's back where she wants to be and ready to deliver for California."
The whole debacle sparked very dumb debates about whether it's sexist to call on a woman lawmaker to resign. (It's not.)
Only time will tell if Feinstein is actually well enough to do her job or only flying back out of a strange stubbornness to stick to her originally planned retirement timeline.