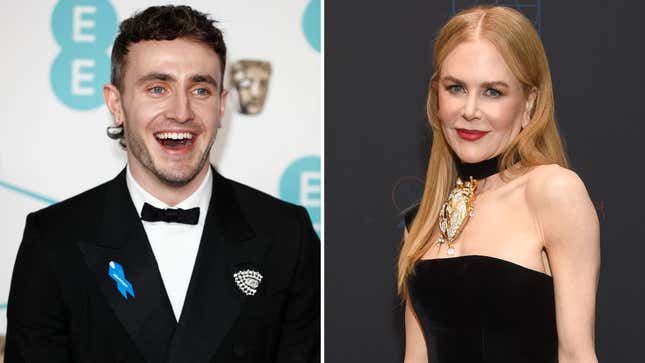 Tickets to see Paul Mescal as Stanley in the West End production of A Streetcar Named Desire are completely sold out for the remainder of the show's run, so you're probably not going to catch him there. But the studly (and freshly unengaged?) Irish actor is also doing the press rounds leading up to the Oscars, where he's nominated for Best Actor for his performance in Aftersun, so we're getting fed excellent nuggets of information about him with each late night interview he does. What a time to be horny and alive!
Last night on Jimmy Kimmel, Mescal relayed a great story about film aficionado Nicole Kidman taking a break from having her heart broken in AMCs to spend the evening appreciating all that live theater has to offer. After the play, Mescal and cast mate Ralph Davis were changing out of their costumes when they heard a knock at the door. "We think it's the stage manager and I go to open it," he explained. "It's Nicole Kidman, and I'm standing there in sweaty underwear."
"You think the next smart step is to put on some trousers, but there's something incredibly undignified about the act of [pulling up your pants]," Mescal said, miming the action. Agreed. No need to put on pants too quickly in this situation! He then hugged Kidman and thanked her for coming, while his pants were sort of half around his legs. Give me a moment, won't ya? It's hard to read about Ms. Kidman living out my fantasies like this.
Mescal has had a slew of celebs stopping by post show, including Angelina Jolie and her daughter Shiloh Jolie-Pitt. If I possessed any clout in this goddamn world, you bet your ass I'd be backstage knocking on every dressing room at Almeida Theater until the show closes.
---