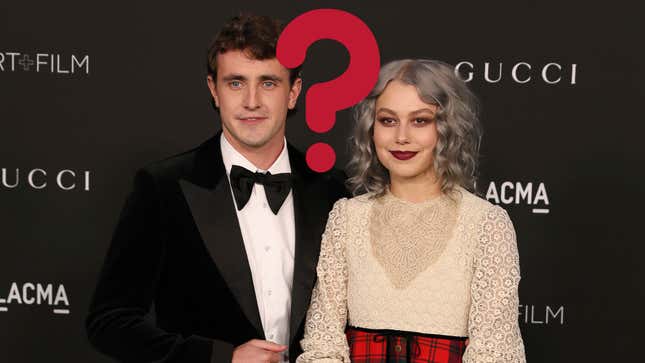 If you're anything like me (a bonafide Sad Girl™), you'll remember how last year's pre-holiday cheer was largely extinguished by rumors that Phoebe Bridgers and Paul Mescal had called it quits. Following various sightings of Bridgers canoodling with comedian Bo Burnham, the Internet was devastated about what this meant for her engagement to Mescal. Since that media storm, we've largely been left in the dark as to what the hell is going on with these beautiful, melancholy people. Now, in a new interview with Vanity Fair, Mescal is breaking his silence on the subject without actually…breaking it at all.
"I definitely feel the temptation to say the status of my whatever—that will always be there. But I don't think that's a wise thing to do," he told the mag. While I respect Mescal's efforts to sound nonchalant about it all, I am personally offended that the Twitter romance that sustained me in lockdown is now being referred to as "whatever."
"When Normal People came out, I was very forthright in interviews, and it didn't actually serve me," he continued.
Mescal also hinted at how the noise around his potential (or maybe confirmed?) split with Bridgers—and general buzz around his personal life—affects him. "Sometimes I can drown it out and then other times it makes me really mad and upset," the actor said. "People are going to write and say things because there's a certain interest with any person who's in the public eye in how that person lives their life, and who they're living up with, and what they're doing and how they're going about doing it." I, for one, am guilty as charged, but still remain eager to know the tea.
G/O Media may get a commission
25% Off
Coleman SaluSpa Inflatable Hot Tub Spa
Of course, Mescal's intense privacy (he quit Instagram a couple years ago to "avoid getting sucked into the comments") doesn't mean he still doesn't occasionally feel the need to set the record straight. "The temptation still exists to be like, 'Shut the fuck up. This is my life. This is what's going on. Or this is what's not going on,'" he told Vanity Fair, adding: "But giving strangers an answer about my life doesn't actually help me. It's like a quick boost of serotonin, being like, 'I've said what I need to say.' And then it's just Twitter fodder."
He is absolutely correct, good for him, and now I will head over to Twitter to see what people are saying about this.