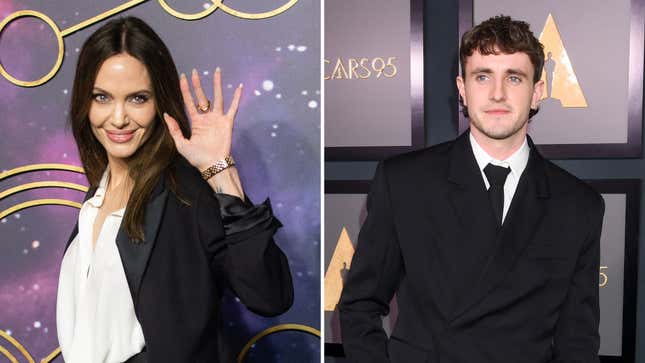 Hey, Happy New Year, 2023 let's go, etc, etc. Whatever. 2022 ended with the rumored breakup and broken engagement of Paul Mescal and Phoebe Bridgers—since Bridgers may or may not be dating Bo Burnham. But 2023 has already brought us one of the most incredible revenge pairing fantasies in recent memory: Paul Mescal and Angelina Jolie.
Megan Rapinoe Uses Media Time to Discuss "Cruel" SCOTUS Ruling
Unfortunately, I do not believe based on this single wholesome outing that they are dating or hooking up. The two actors were photographed by a fan at a coffee shop in London, according to Page Six, after the 47-year-old Jolie watched the 26-year-old Mescal perform in A Streetcar Named Desire at the Almeida Theatre. Jolie's 16-year-old daughter, Shiloh, was also with them. The grainy photograph of the back of Jolie's head and the side profile of Mescal and Shiloh all looks very "famous celebrity hanging out and complimenting other famous celebrity."
BUT. Mescal appears to be rubbing his upper bicep very sexily. This could be nothing. It definitely is nothing. He probably had an itch. Maybe there was a fly. Jolie and Shiloh are wearing their coats, and Mescal is only in a t-shirt, so maybe he was cold. But honestly, it looks a little flirty. It looks a little hot, bashful Irishman being hot and bashful. What I'm saying is: I would pay $1 million to have Mescal caress his bicep at me, even if we went our separate ways after and never spoke again.
So even if they're not currently dating, I imagine there was a spark. Mescal seems to be a little down and out after Bridgers potentially broke off their engagement to date Burnham, the similarly hot comedian who maybe broke up with his partner of 10 years, filmmaker Lorene Scafaria, to date Bridgers. In December, Mescal revealed that he's in a "Tortured Man Club" WhatsApp chat with Joe Alywn and Andrew Scott—which is something else I would pay a pretty penny to be a part of. (None of these famous people have released any comment or statement on their romantic partnerships.)
Anyway. Mescal seems sad. Bridgers seems to have moved on. And I can't think of a better rebound for Mescal than Jolie—who could also use a hot rebound after her wannabe-beauty-influencer ex-husband was spotted with his new girlfriend in Cabo on New Year's Eve. The exes were declared "officially single" in 2019, but their divorce has reportedly yet to be finalized since they're still battling over their shared winery, Chateau Miraval. (A battle that is getting messier and messier.)
So throw out your stupid 2023 bingo card, because I know none of us had any version of Mescal and Jolie getting coffee together in London. And whether the coffee was professional, platonic, or the seed of a budding, beautiful romance, I'm going to savor this shooting-star-of-an-innocent-celebrity-gossip-story for as much of 2023 as I can. Love, in whatever weird and wonderful form, remains alive.