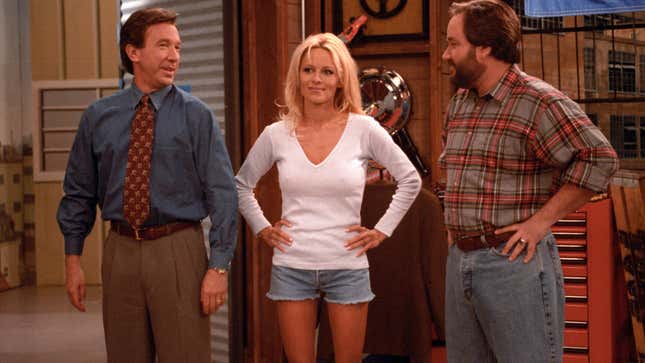 With the one-two punch of a Pamela Anderson memoir and Netflix doc on the horizon, there's something of a Pamaissance underway in the press for the actor-model who became an icon in the '90s. The latest bombshell from her book Love, Pamela, which drops January 31 (the same day that Pamela, a love story hits Netflix), is the claim that actor-comedian Tim Allen exposed himself in front of her on the set of the sitcom Home Improvement. Anderson recurred regularly on the first two seasons of the show, which was based on Allen's stand-up.
Lisa Rinna Finally Reveals the Story of Her Iconic Hairstyle
Variety was the first to publish the excerpt, which reads:
On the first day of filming, I walked out of my dressing room, and Tim was in the hallway in his robe. He opened his robe and flashed me quickly — completely naked underneath. He said it was only fair, because he had seen me naked. Now we're even. I laughed uncomfortably.
Some context: At that point, Anderson had appeared in Playboy. (It was years before her sex tape leaked.) Some more context: Allen flatly denied the allegation after being contacted by Variety. "No, it never happened. I would never do such a thing," he said.
This news cycle of Anderson's has already included her referring to Tommy Lee as the only man she ever loved, saying that Hulu's 2022 series Pam and Tommy gave her nightmares, recounting molestation and hands of a babysitter whom she says she then tried to kill, indicating she'd been raped at age 12, and a story about finding a crack pipe in her Christmas tree during her marriage to professional poker player Rick Salomon. More are likely on the way.
---