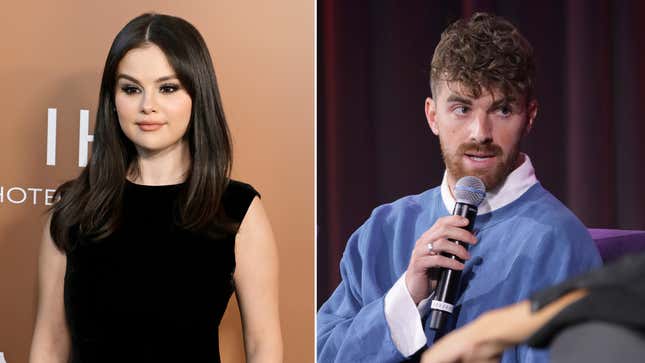 Selena Gomez is reportedly dating The Chainsmokers' Andrew Taggart, according to Us Weekly, and it sounds like the epitome of modern romance: A source told the tabloid the two "go bowling and to the movies" when spending time together, and "aren't trying to hide their romance by sneaking around at members only clubs." Per the source, the two are "so affectionate" with each other, Gomez "can hardly keep her hands off him," and they're "having a lot of fun" together. Lovely!

Still, it's apparently very new, and things are staying "very casual and low-key." And, of course, before being linked together this week, Gomez and Taggart were separately attracting some attention over their personal lives earlier this month for…other reasons.
Last week, Taggart and his Chainsmokers partner Alex Pall inexplicably revealed on Alex Cooper's Call Her Daddy podcast that he and Pall have engaged in threesomes with fans. It was a tradition that supposedly started because the hotel rooms they booked in Europe only came with one bed. Fair enough! What else were they to do under such circumstances—book another room?? Not have a threesome?
Shortly before that revelation, Gomez rang in the new year with a post joking (?) about being in a throuple with pals Brooklyn Beckham and Nicola Peltz, amid reports that the married couple recently moved into one of the former Disney star's houses. The three were first spotted hanging out in November 2022, their friendship has clearly advanced pretty quickly.
On Monday, fans resurfaced a video from Gomez's 2016 appearance on Watch What Happens Live With Andy Cohen in which Cohen confronted her about supposedly being the source of Beckham's break-up with then-girlfriend Chloe Grace Moretz, showing just how far we've all come. Gomez was 23 and Beckham was 16 at the time. "How old is he? Isn't he 16? Now I know I look 16, but I'm 23—like no, I just did a movie with Chloe and she's outstanding," Gomez said. "I don't know what happened with them, but they're like five. Why are we judging their relationship?" Time really flies, doesn't it?
In any case, threesomes—or at least a propensity to joke about them—seem to be something Gomez and Taggart have in common. How fun!
Before Gomez, Taggart was also romantically linked to Steve Jobs' daughter, Eve, over the summer. The timing seems coincidental, but PageSix noted that as of Monday, as Gomez and Taggart's relationship hard-launches, Jobs' Instagram appears to be deactivated.
Gomez's dating life has seemed very quiet, at least publicly, since her breakup with The Weeknd in 2017 and Justin Bieber in 2018, and she's repeatedly emphasized that she's focusing on her physical and mental health—men, indeed, do not tend to help with that!
I wish Gomez and Taggart a good time together, and with whichever other lucky third they may deem to include.