On Wednesday, Politico published clips from a 1990 Oprah episode about domestic abuse, featuring the disguised then-wife of labor secretary nominee Andy Puzder. Hours after the tape was released, Puzder withdrew himself from the running, reportedly saying with no apparent irony that he was tired of all the "abuse." But if it were up to OWN, the tape would never have been made public at all.
Puzder, who owns the parent company of Hardee's and Carl's Jr., and his wife, Lisa Fierstein, were divorced in 1989. In her filings, Fierstein detailed three separate occasions of physical abuse, including one instance where she alleged Puzder punched her in the face while they were driving in a car.
In 1990, a few months before the couple arrived at a final custody agreement, Fierstein donned a wig and sunglasses and appeared anonymously on an Oprah episode titled "High Class Battered Women." The disguise apparently worked, because according to reports, Puzder was unaware of her appearance.
A few months after the show aired, Fierstein retracted the allegations she made in the divorce papers as part of her child custody agreement. She even defended Puzder when his nomination was announced in December, writing in a private letter to Congress that she regretted making the allegations and only appeared on Oprah's show because she wanted a free trip to Chicago.
G/O Media may get a commission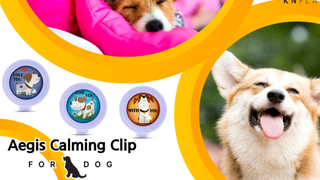 20% off
Aegis Calming Clip for Dogs
"What we should have handled in a mature and private way became a contentious and ugly public divorce," she wrote.
But her disguised appearance, made before she signed a child custody agreement that hinged on her withdrawing the allegations, remained a mystery—until Politico reporter Marianne Levine tracked it down. And it was without any help from the Oprah Winfrey Network, she writes in a post-mortem on Politico.
"All that was known was that Fierstein had appeared on an episode focused on domestic abuse that aired in the 1980s or 1990s," Levine wrote. "The Oprah Winfrey Network [OWN], which retained rights to the show, declined to release old episodes or help research when it might have aired."
At some point OWN did release the tape, but only to the Senate and only on the condition that it not be made public, Levine reports. This is not particularly surprising; Oprah is in complete control of her brand at all times, and the epiode aired during the oft-forgotten early days of her show, when it was channeling more of Phil Donahue's approach, taking serious topics and making them highly sensationalized.
But armed with the name of the episode, Levine was eventually able to track down another woman who had appeared in the same segment who had a copy of the tape on VHS.
That woman, Charlotte Fedders, whose former husband—a higher up at the SEC—lost his job after admitting to abusing her in a spectacularly public divorce, told Politico she remembered the episode well.
"I totally believe that it happened," Fedders said. "I believe that she was abused."