In 1990, Lisa Fierstein, the ex-wife of Labor Secretary Andy Puzder put on a wig and sunglasses and went on an episode of the Oprah Winfrey Show titled "High Class Battered Women," where she spoke in detail about the physical abuse she allegedly underwent during their marriage. "'I will see you in the gutter. This will never be over. You will pay for this," she said her ex-husband, whose confirmation hearing is set for Thursday, told her after she went public.

On Tuesday, video of her long-discussed appearance finally surfaced from two sources—the Oprah Winfrey Network, which provided a copy of the tape to Congress; and from a woman who also appeared in the segment, who provided a copy to Politico.

Fierstein filed for divorce from Puzder in 1987, accusing her now ex-husband of throwing her to the ground, preventing her from calling police, and, on one occasion, punching her in the face while they were driving home.
The Riverfront Times reports Puzder denied most of the allegations, including punching his wife in the car, but admitted drunk driving onto a curb, saying in a deposition, "I think it had to do with the liquid refreshment we had with our dinner more than anything else."
G/O Media may get a commission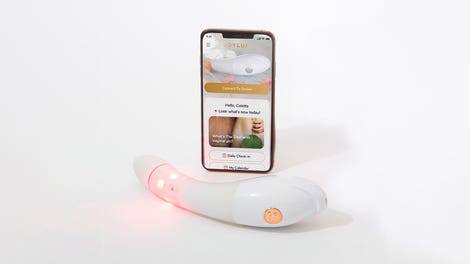 $50 Off
Joylux vFit Gold Device
The Oprah appearance appears to be the only video of Fierstein discussing the allegations, which she ultimately retracted eight months later as part of a child custody agreement.
"The most frightening thing was leaving because once I made that break, and once I made it public, and remember my ex-husband was a public figure—everyone knew him and knew what he was doing. And once I made that public, he vowed revenge," she said in the episode. "I wound up losing everything. Everything. I have nothing. He has a Porsche and a Mercedes Benz. He has the home. He has everything. He was an attorney and he knew how to play the system."
"Most men who are in positions like that don't leave marks," Fierstein said. "The damage that I sustained you can't see. It's permanent. They don't hit you in the face. They're too smart. They don't hit you in front of everyone."
Fierstein later claimed she went on the show as a leverage tactic in her divorce, but as Politico points out, that makes little sense given her disguise.
"I totally believe that she was abused," Charlotte Fedders, the woman who appeared on the segment alongside Fierstein and provided Politico with the tape, told the outlet. "Powerful men have a way of convincing you that they didn't do it. I do believe that she was abused."

Puzder's confirmation hearing, which has been delayed multiple times, is set for Thursday.