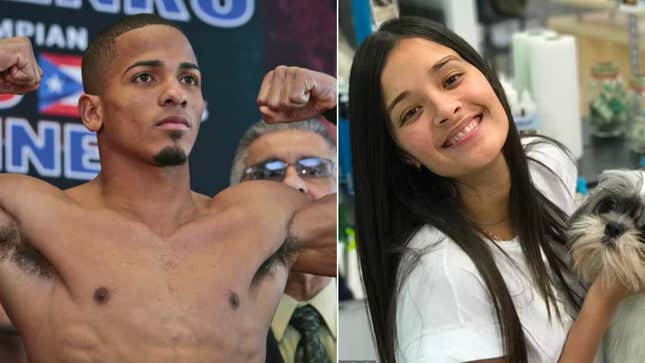 Former Olympic boxer Félix Verdejo-Sánchez was convicted on Friday of killing his pregnant lover in 2021 because she refused to get an abortion. A press release from the U.S. Attorney's Office in the District of Puerto Rico said that a federal jury found Verdejo-Sánchez guilty of kidnapping that resulted in death, as well as "intentionally killing an unborn child."

In May 2021, Verdejo-Sánchez's pregnant ex, Keishla Rodríguez Ortiz, was found dead in the San José Lagoon in San Juan, the Puerto Rican capital. Verdejo-Sánchez, who competed for the U.S. in the 2012 Olympics, was arrested the following day. He and Rodríguez Ortiz had been friends since middle school.
Verdejo-Sánchez's co-defendant, Luis Antonio Cádiz-Martínez, testified at trial that the boxer had called him asking for help because Rodríguez Ortiz refused to have an abortion. Rodriguez Ortiz's parents also testified that Verdejo-Sánchez was in a relationship with another woman—with whom he lived—when he impregnated their daughter. According to Rodriguez Ortiz's mother, Rodriguez Ortiz had informed her parents that she was meeting Verdejo-Sánchez at her apartment on the day of her murder to present him with her positive pregnancy test; her mother says she warned her daughter that Verdejo-Sánchez could be dangerous because he had been threatening her for not having an abortion.
Prosecutors said Verdejo-Sánchez sought Cádiz-Martínez's help to go to Rodríguez Ortiz's apartment and lure her into a car. When she entered the vehicle, Verdejo-Sánchez allegedly punched her in the face, injected her with drugs, and bound her to a concrete block before throwing her off a bridge into the San José Lagoon.
Shortly before Rodríguez Ortiz's body was found, another Puerto Rican woman named Andrea Ruiz was also murdered by an ex-partner. The combination of their brutal deaths at the hands of former intimate partners spurred a wave of protests across Puerto Rico.
Homicide, often by intimate partners, is a leading cause of death for pregnant people, according to the Centers for Disease Control and Prevention. (Rodríguez Ortiz's death is precisely what state and federal fetal homicide laws were established to address, though these laws are all too often instead weaponized against pregnant people for the outcomes of their pregnancies.) Verdejo-Sánchez's conviction comes at a time when cases of reproductive coercion, or acts of abuse targeted at controlling a partner's reproductive decisions, are surging: The National Domestic Violence Hotline reported earlier this month that calls to its hotline concerning acts of reproductive coercion doubled in the year since the Supreme Court overturned Roe v. Wade.
Shortly after Roe fell last year, a Missouri man was sentenced to life in prison for murdering his wife in 2019. Before she went missing, she'd searched on her cell phone: "what to do if your husband is upset you are pregnant." In May, a Texas woman was killed by her partner who had a history of abuse for her decision to have an abortion. Both of these tragic outcomes, as well as Rodriguez Ortiz's death, reflect what we already know: that pregnancy creates greater vulnerability for domestic violence. 
Verdejo-Sánchez faces a mandatory life sentence for each of the convictions against him, and his sentencing will take place on Nov. 3.