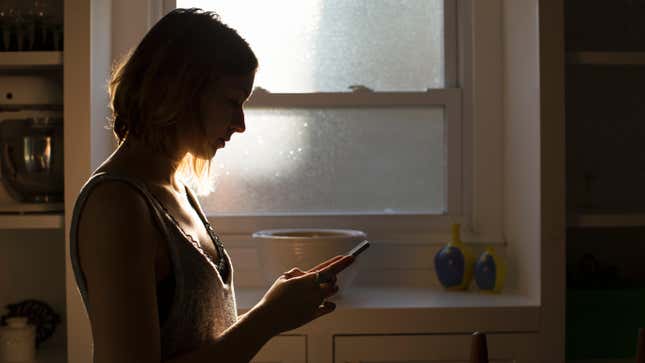 Crystal Justice, chief external affairs officer for the National Domestic Violence Hotline, has heard a lot of gutting cases of domestic violence from hotline callers over the years. But since the Supreme Court overturned Roe v. Wade last June, Justice told Jezebel that a few calls, in particular, have stood out to her—namely one woman who said her partner was intercepting her birth control pills after learning she was having them mailed to her. She eventually became pregnant but lived in a state where abortion is banned, and called the hotline desperate to learn her options.
Justice also heard from callers, post-Roe, whose abusive partners have weaponized their states' abortion laws, as well as the widespread confusion around the laws' particularities, to confuse and control them. "We've seen abusive partners weaponize the possible criminality of accessing abortion, or wrongfully tell a victim that if they do access abortion, they themselves could go to jail, or they'll report them to the police," Justice said. (Pregnancy outcomes and self-managed abortion are heavily policed and can lead to criminal charges—but no abortion bans currently in effect criminalize the abortion patient.)
Overall, the National Domestic Violence Hotline said they've seen a 99% increase in calls from people saying their partners are trying to control their reproductive choices (which domestic violence experts call reproductive coercion) since Roe was overturned. The hotline told Vice News that the year before Roe, they received 1,230 calls; in the year since, the hotline's received 2,442
The jarring data suggests that while abortion bans are "in and of themselves state-based reproductive coercion," as Justice puts it, they create the optimal conditions for reproductive coercion to be perpetrated by abusive partners, too. A famous study known as the Turnaway Study has found that people who are denied abortion care are at a significantly greater risk of long-term domestic violence. As anti-rape educator and activist Wagatwe Wanjuki told Jezebel last year, abortion bans are "an abuser's dream."
In May, a Texas woman was killed by her partner—who had a prior record of domestic violence—for getting an abortion, according to police. (A leading cause of death for pregnant people is homicide, often by intimate partners.) And last summer, a Missouri man was sentenced to life in prison for murdering his wife in 2019; before she went missing, she'd searched on her cell phone: "what to do if your husband is upset you are pregnant."
"With abortion bans, state laws have really put controlling someone's access to reproductive health care in the toolbox of abusive partners," Justice said. "We've really emboldened those who are causing harm to use reproductive coercion, to use the right to control one's own body, as a means of harm." Abortion and birth control, Justice emphasizes, are "absolutely necessary for survivors to pursue a path to a safer future without harm or violence."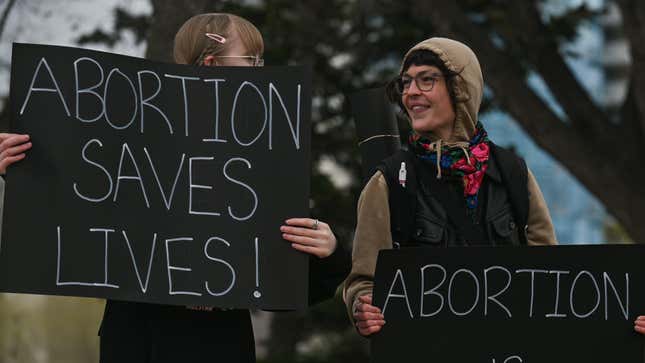 The stories of callers that Justice shared with Jezebel aren't uncommon: 15% of women experiencing physical violence from a male partner have also reported birth control sabotage. The risk is greater for young people—a quarter of adolescent girls with an abusive male partner have reported their partner attempted to impregnate them by interfering with their contraception.
In 2021, California passed a law to add reproductive coercion to the state's civil definition of domestic violence. Jane Stoever, a law professor and director of the University of California, Irvine's Domestic Violence Clinic, told me at the time that she's counseled numerous domestic violence victims who didn't recognize acts of reproductive coercion from their partners were a form of abuse: "Reproductive coercion is typically not the only type of abuse experienced in a relationship in which intimate partner violence is present, and it can be challenging to reveal."
Even before Roe was overturned, abuse victims and survivors have always been uniquely harmed by anti-abortion laws, their bodies treated as political props for ongoing debates about rape exceptions that are often unhelpful in practice. Justice notes that while abortion rights supporters have expressed particular outrage with how many newly enacted abortion bans lack these exemptions, abortion care should be available to people "regardless of their abusive experience or lack of it."
Last year, Jezebel reported on the relative silence among national domestic violence and rape advocacy organizations in the face of the fall of Roe. The National Domestic Violence Hotline's data shows, if anything, their work is more necessary than ever, reflecting the inseparability of reproductive and survivor injustice.
The National Domestic Violence Hotline takes calls 24/7 at 1-800-799-SAFE (7233), or 1-800-799-7233 for TTY. If you cannot speak safely, you can log onto thehotline.org or text LOVEIS to 22522.