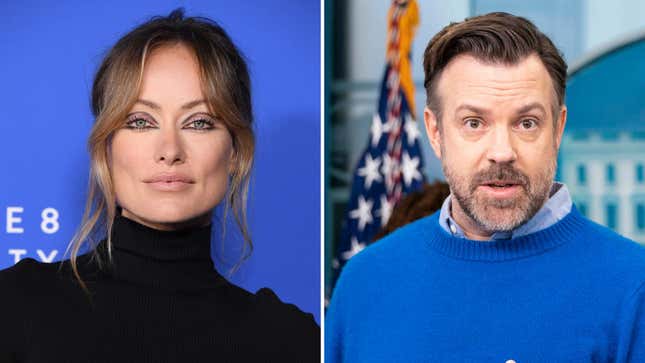 Things between Olivia Wilde and Jason Sudeikis have been hotly contentious since Sudeikis first served the Don't Worry Darling director with custody papers in the middle of CinemaCon last April. Now, it appears Wilde and her legal team are striking back, as the custody battle over their two shared children gets even uglier.
Jennifer Hudson Achieves EGOT Status, is True American Idol
The main sticking point in the (un)couple's current legal battle is whether the kids should remain in California with Wilde or be moved to New York with Sudeikis. Though a judge previously rejected Sudeikis' attempts to thwart a California order that the kids should stay on the west coast, the Ted Lasso actor had filed yet another motion this year to block the order. Wilde, meanwhile, has claimed there is no basis for the argument that the kids should move to Brooklyn with their father, as their daughter Daisy has never attended school there, and their son Otis completed just one semester of kindergarten.

But Sudeikis also seems to want the case to be heard in New York, which would give him a home court advantage of sorts. In August, a judge rejected Sudeikis' first request to have the case moved to his turf. On Thursday, a New York judge rejected his legal team's request to move the case to the east coast for a second time, according to TMZ.

"While Jason can afford to spin his wheels with filing after filing, Olivia cannot," Wilde's attorneys wrote prior to a scheduled Friday hearing, which has since been canceled, according to the Daily Mail. "Jason should not be permitted to litigate Olivia into debt, and then claim she should be deprived of her right to seek a needs-based fee contribution from him…Jason seems intent on throwing whatever he can against the wall to see what will stick."

"While the details of Jason's finances are presently unknown as he refused to substantively respond to basic discovery, she is aware that he is far wealthier than she is," Wilde's attorneys continued.

Wilde also had an opportunity to voice her frustrations in the filing in her own words:

"[Jason's] underhandedness and bad faith in these proceedings is astounding. I am completely perplexed at why he believes that engaging in intimidation or trickery will serve him or our children's best interests…We were scheduled to start working with a family therapist in California in mid-January. I thought things were calming down and were going to move forward in a more amicable, respectful fashion. Instead I learned…that the entire time I was negotiating the parenting time schedule in California [Jason] was plotting to proceed with the New York Child Support proceeding behind my back."
This is, of course, just the latest installment in a harrowing fight between the two ex-partners: Last fall, the household's former nanny claimed Wilde cheated on Sudeikis with Harry Styles, that Sudeikis laid down under Wilde's car to stop her from visiting her boyfriend, and that a raging Sudeikis often left Wilde feeling afraid.

As proceedings continue, it seems Sudeikis' shiny Ted Lasso facade is melting away to reveal something much pettier, if not more sinister.