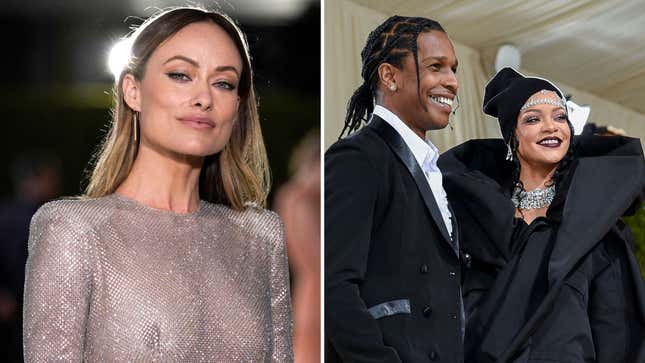 There were few better places to be last Sunday night than watching the mid-football game Rihanna concert, which doubled as an epic pregnancy announcement for the "Umbrella" singer. Amidst the 13-minute medley of Rihanna's greatest hits, it was hard not to notice how proud her partner and co-parent, A$AP Rocky, was of her big musical comeback, taking a video of the halftime show and crowd from his spot in the audience. But apparently, some stars were noticing the rapper too much for the public's liking and crossed the line into possible "thirst" territory.
Crush of the Week: Daniel Radcliffe's Weird Al
Olivia Wilde, namely, posted an Instagram story that Rihanna fans found "embarrassing" and "inappropriate." On Monday, Wilde reportedly posted a since-deleted video of A$AP Rocky's TV cameo with the following caption: "If I thought he was hot before, this really put me over the edge," and tagged both Rihanna and A$AP Rocky in the story (which IMO makes it pretty benign!). The post received an onslaught of scrutiny for the way it seemed like Wilde was going after the very-much-partnered rapper. Some Twitter users pointed out that it was strange that Wilde would tag the couple in her post: "The way she's saying this with her whole chest and tagging both of them… it's embarrassing," one user wrote. Another person even went so far as to call Wilde "desperate to have a man." LOL.
Wilde, who is newly single, has had quite the tabloid storm over the last year, thanks to the drama that was the making of Don't Worry, Darling, her simultaneously dramatic and cryptic divorce with actor Jason Sudeikis, and her recent split with singer Harry Styles. This new Instagram backlash seems to be the newest wave of Olivia Wilde hate, which only seems to swell in size and power every time the actor and director does...anything.
Scrutiny ran so high that Wilde had to delete the Instagram post a few hours later and post a second story explaining what she meant by the original: "For anyone who got it twisted 🙄… It's hot to respect your partner," she explained. "Especially when your partner just did thaaaaaat."
Wilde, of course, isn't the only famous person to share her (potentially romantic or sexual) thoughts on the halftime show. Following Rihanna's performance, Ethan Hawke posted a throwback of him and the star sitting court side during an NBA game on Instagram. The caption read: "After Rihanna's brilliant half time performance, I'm hoping my son can find it in his heart to forgive a Dad for taking his moment."
With that post, Hawke seems to have been jokingly admitting to shooting his shot with the singer then, if only to marvel at her up close and personal. Where are the posts bashing Hawke for his lusty courtside move, hmm?
I'll be sitting in disturbia til y'all figure it out amongst yourselves.