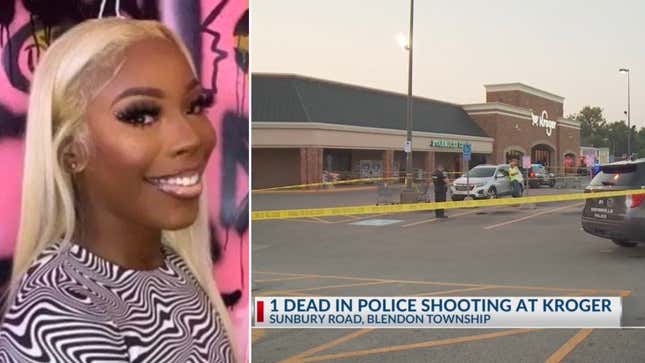 Police officers in Ohio shot and killed a 21-year-old Black pregnant woman, who was also the mother of 6-year-old and 3-year-old sons, outside a Kroger store on Thursday. The police allege the woman stole liquor from the store and claim she tried to drive over an officer who got in front of her car. The woman, Ta'Kiya Young of Columbus, Ohio, was six months pregnant and set to give birth in November.

Young's shooting death is currently being investigated by the Ohio Bureau of Criminal Investigation, and the officers responsible for it are currently on paid administrative leave, Blendon Township police Chief John Belford confirmed. The police department is expected to release body camera footage of the incident this week, per the Columbus Dispatch.
Belford said in a Friday video message that two officers who were in the parking lot of the grocery store were alerted by employees that Young had taken several liquor bottles without paying and was fleeing in a vehicle without a license plate. Belford said the officers repeatedly called on Young to step out of the vehicle, with one officer standing next to the car and another in front of it. "The officer who was directly in the path of the oncoming car fired one shot through the front windshield," Belford said. "The body camera footage I've reviewed also confirms the officer was directly in the path of the car." According to Belford, after the officer shot Young, the car ran for about 50 feet until stopping at a brick wall, at which point the officers broke the driver's window to give Young first aid.
Belford's version of events has come under heavy scrutiny from advocates who point out the well-documented history of police dishonesty as a tactic to justify fatal shootings and other violence. The Columbus Dispatch reports that at a small gathering to protest Young's death late Friday, a woman named Malissa Thomas-St. Clair, co-founder of Mothers of Murdered Columbus Children, said she had been Young's school teacher and expressed outrage at the circumstances of Young's death. "When I'm hearing that shoplifting now equates with losing your life—and you're pregnant. That deserves outrage," Thomas-St. Clair said to the crowd. She continued, "Young people make mistakes, but because I make mistakes, I should learn from them and not die from them."
The police department's emphasis on the alcohol also seems like a very particular choice: Cops often lean into narratives—or sometimes just overtly lie—to imply that their victim was "no angel," as the Nieman Foundation has explained. And in this case, police are seemingly banking on a pregnant Black woman and young mother who stole alcohol receiving less public sympathy.
Young's death comes after several disturbing videos collected from body camera footage showed Los Angeles-based cops brutalizing Black women, including one who was holding her baby when an officer appeared to punch her in the face, earlier this year. Earlier this month, a Black woman in Detroit sued the local police department for arresting and jailing her while she was eight months pregnant over a facial recognition error. Research from last year linked the ongoing threat of police violence to worsened maternal outcomes for pregnant Black women.
Friends of Young's described her to a local news station as "the life of the party" and "a ball of energy."
"Her personality is like second to none. So, she will truly be missed for her personality. I know her kids will miss her, that's the saddest part of all of it," one friend said. "I just wish something else could've been done to intervene with the situation."