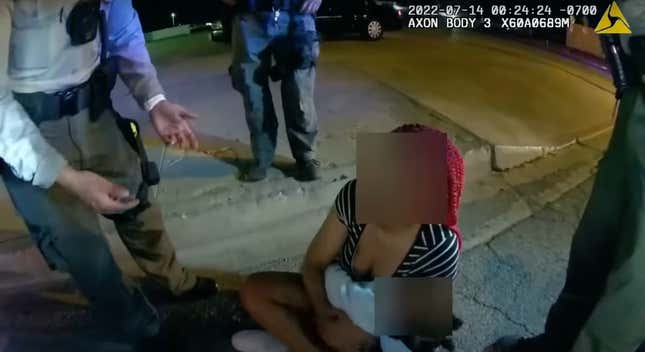 The Los Angeles County Sheriff's Department on Wednesday released body camera footage from July 2022 that shows a deputy punching a Black woman twice in the face while she's holding her baby. At the time, Sheriff Robert Luna said at a press conference that the deputy's actions were "completely unacceptable" and confirmed he'd been taken off field duty. But he said that state law prohibits him from sharing specific disciplinary acts against deputies or sharing the identity of the one who punched the woman.

The July 2022 incident occurred when police stopped a car that was driving at night without headlights. Upon pulling over the vehicle, deputies believed the car smelled like alcohol and found three babies who weren't in car seats and were being held in their respective mothers' arms. The deputies arrested the vehicle's male driver on suspicion of driving on a suspended license, driving under the influence of alcohol, and child endangerment, and arrested the three women in the car on suspicion of child endangerment too.
The body camera footage shows one of the women holding onto her baby as she tells the deputies asking her to hand over the infant, "You'll have to shoot me dead before you take my baby." She then says her baby is just three weeks old and that they're hurting him as they move closer. When she continues to resist, still holding her baby in her arms, a deputy punches her several times in the face, then takes her baby and handcuffs her.
Janice Hahn, chair of the Los Angeles County Board of Supervisors, thanked Luna for sharing the footage in a Wednesday tweet. But she also noted that the footage "should have been released immediately by the prior Sheriff," Alex Villanueva, who was voted out of office last November following a term marked by scandals and allegations that accused him of purposefully covering up violence from his deputies.

Luna called the punching incident from last summer "an isolated incident committed by an individual who will be held accountable." But the release of this horrifying body camera footage comes as the Los Angeles Sheriff's Department is embroiled in controversy over another similar case of jarring police brutality, also targeting a Black woman.
Body camera footage released just earlier this month from a June 24 incident shows a deputy in Lancaster, California, tackling a Black woman to the ground and pepper spraying her for taking a video of a man being arrested. Cell phone video footage of the incident shows someone off-camera telling the deputy to not hurt the woman because she has cancer.
In 2015, the Los Angeles Sheriff's Department and the Justice Department agreed to a slate of policing reforms after the DOJ investigated and found that deputies in Lancaster and Palmdale engaged in "excessive use of force" and racially biased policing disproportionately targeting Black and Latinx people. The body camera footage released this week and the June 24 incident in Lancaster show that despite these reforms, police violence—specifically targeting Black women, even in front of their children—has predictably continued.