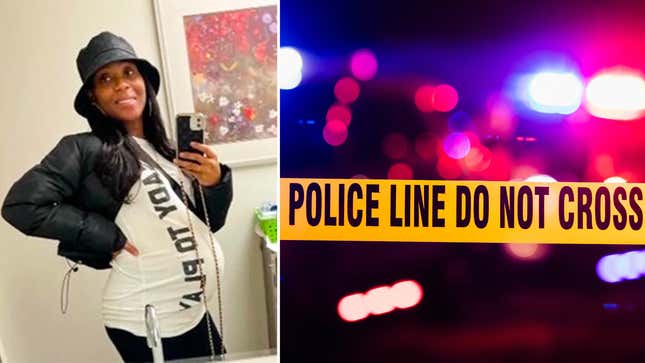 One morning in February, Porcha Woodruff, eight months pregnant, was helping her kids get ready for school when six Detroit police officers showed up at her door. According to a negligence lawsuit filed on Friday, Woodruff said she thought the officers were joking when they presented her with a warrant alleging robbery and carjacking. They weren't, and arrested her. Woodruff, a Black woman, had been was charged in the carjacking by inaccurate results from facial recognition technology, which has a history of racist outcomes.

Woodruff has now filed a lawsuit against the city of Detroit, with her complaint against the city stating that she "was implicated as a suspect through a photo lineup shown to the victim of the robbery and carjacking, following an unreliable facial recognition match." According to the suit, "Law enforcement's reliance on facial recognition has led to wrongful arrests, causing humiliation, embarrassment and physical injury, as evident in this particular incident."
On Jan. 29, a man told police that he'd been robbed by a woman he'd had sexual intercourse with. The two went to a gas station, and shortly after the woman got out of the car and interacted with several men there, one of the men held the victim at gunpoint, robbed him, and took his car.
Later, a woman returned the victim's phone to the gas station, and the detective overseeing the case ran surveillance video through facial recognition technology. The woman was falsely identified as Woodruff, making a faulty match with a mugshot of Woodruff from a past arrest in 2015.
When Woodruff was arrested on Feb. 16, she and her fiancé pleaded with police to ask the victim if the woman who robbed him was pregnant. But according to her suit, police declined to do so. Woodruff was held at the Detroit Detention Center until 7 p.m. that day, when she was released on $100,000 bail. Immediately after being released, Woodruff's fiancé took her to an emergency room where she was diagnosed with a low heart rate from dehydration and learned she was having contractions from stress—while eight months pregnant.
A few weeks later, on March 6, the Wayne County Prosecutor's Office dropped the case against Woodruff for "insufficient evidence," but the office maintained in a statement shared with NBC on Sunday that "the warrant was appropriate based upon the facts."
People of color are more likely to be misidentified by facial recognition technology than white people. Democracy Now noted that Woodruff is the first woman known to be falsely identified as a criminal suspect as a result of facial recognition technology. But there are at least five other documented cases of people who have been wrongfully arrested due to the technology, all of whom are Black.
That Woodruff faced arrest as a pregnant woman is especially concerning, as pregnant people can face dangerous conditions in police custody. Woodruff fortunately didn't lose her pregnancy despite the stress-induced contractions—but it's a risk she never should have faced in the first place.