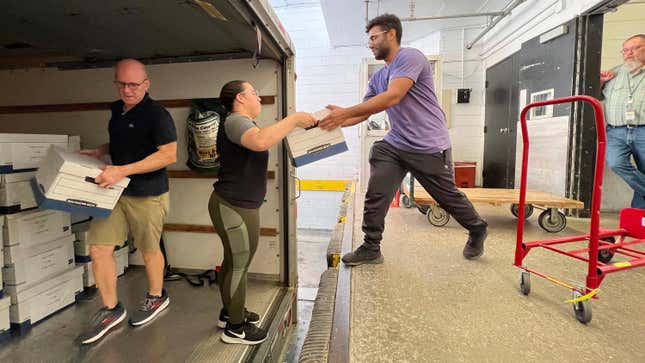 On Thursday, the Ohio Ballot Board, in a split decision, approved inserting anti-abortion language into the summary of the pro-abortion rights ballot issue going to voters later this year. Instead of using the full text of the amendment, in place of the word "fetus" it will read "unborn child," and "decision" will be changed to "medical treatment."
Uterus Weekly: 15-Week Abortion Bans
The final bullet point on the summary presented to voters is the most troubling. "The proposed amendment would: Always allow an unborn child to be aborted at any stage of pregnancy, regardless of viability if, in the treating physician's determination, the abortion is necessary to protect the pregnant woman's life or health."
While this doesn't change the text of the amendment, it's still incredibly concerning. The summary of the ballot issue is "last representation of the amendment voters read" in the voting booth, according to the Ohio Capital Journal. The original language was certified by Attorney General Dave Yost, an anti-abortion Republican, in March.
Secretary of State Frank LaRose, a Republican who's also running for Senate, said "staff" made the changes, but "having worked extensively on drafting this, I do believe it's fair and accurate." But not everyone is convinced it was just lowly staffers: "I would assume that the buck stops with the secretary of state," State Rep. Elliot Forhan (D) told the Ohio Capital Journal.
Advocates submitted nearly double the number of required signatures for the ballot issue in July. At that time, polling found more than 59 percent of Ohio's registered voters support protecting abortion rights. Among those surveyed, more than 63 percent of women and nearly 55 percent of men support state-level protections for abortion. These numbers bore out in the special election at the beginning of August, where abortion rights were a winning issue by proxy. Issue 1 was a ballot issue to amend the how to amend the state constitution. Supporters of the issue wanted to raise the threshold for passing an amendment to the constitution from a majority (50 percent + 1 vote) to 60 percent—basically to make it harder to enshrine abortion rights into the constitution—and Ohioans resoundingly rejected it.
Now, Republicans are throwing everything at the wall in a desperate attempt to thwart the ballot measure ahead of Nov. 7. Hopefully, voters see through it.