As a wise person once said, "If you are a dumbass, it's probably a bad idea to agree to be interviewed by Soledad O'Brien." The anchor is a whip-smart bulldog who never backs down, who schools fools and fact checks John Sununu. Unfortunately, the buzz is that she's getting the boot at CNN.
The New York Post reports that new boss Jeff Zucker is giving O'Brien's morning slot to Erin Burnett.
The source added, "Soledad is talented at producing in-depth, serious pieces of journalism, and is a tough interviewer. That doesn't seem to fit the direction the network is going."
In a word: Ugggggggghhhhh.
While some journalists are comfortable taking a break from the hard stuff and embracing the softer side of news (looking at you, Peabody Award-winning Hoda Kotb), O'Brien is not that kind of reporter. If you're seen her deal with Michelle Bachman or argue with Rudy Giuliani, you know that a cushy gig like Today would not be right. She knows it too:
She said in a recent interview that she was sure she would not be hosting a lighter morning show once Zucker, her former boss at NBC, took the reins. "I'm fairly confident that I'm not going to be cooking salmon and doing fashion shows on CNN," she told the Times.
G/O Media may get a commission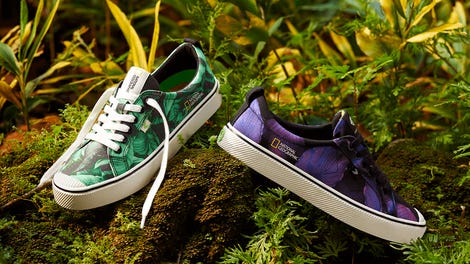 New New New
Cariuma + National Geographic
Whatever happens, you can be quite sure O'Brien will land on her feet. As she said in an old interview:
Answering one aspiring journalist's question, O'Brien said: "I've never been the smartest or the prettiest, but I will outwork everyone," she said. "At the end of the day, it's about working hard, being solid, being honest, keeping your integrity and working hard, working hard, working hard."
On another occasion, a writer wanted O'Brien to describe the best advice her mother ever gave her. "Most people are idiots."
Soledad headed out at CNN [NYP]
Earlier Soledad O'Brien highlights:
Idiot Senator Who Said Hillary Clinton Fake Cried Gets Ass Handed to Him By Soledad O'Brien
Soledad O'Brien and Rudy Giuliani Got Into a Spat on Live TV This Morning
RNC Chair Tells Soledad O'Brien That Romney's Abortion Position is Consistent, Soledad Laughs and Laughs
CNN's Soledad O'Brien Totally Pwns Romney Surrogate
And! Don't miss our Q&A: Stop the Presses! CNN Anchor Soledad O'Brien Is Here to Answer Your Questions