Oberlin, the university where our friend lived in the vegan commune and dated her first gay boyfriend*, is currently having its ultra-liberal college cred threatened due to a string of incredibly disturbing incidents on campus. Worse than that, Oberlin was amongst the first schools in the nation to educate women and men together, and one of the first to admit black students, and now is in danger of becoming an unsafe, unwelcoming place for its proudly diverse student body. And that fucking sucks.
The newspaper of record for Oberlin College and the town of Oberlin, The Oberlin Review, has compiled a list of the recent racist happenings, including:
Feb. 9: Vandalism in the Science Center included the replacement of "Black" with "Nigger" on Black History Month posters, drawings of swastikas, damage to the "Year of the Queer" posters and reported destruction of the Chinese calendar.

Feb. 12: LGBTQ Community Coordinator Lorena Espinoza found a note in the Multicultural Resource Center that read "Nigger + Faggot Center."

Feb. 17: The Office of Safety and Security released a Special Alert of a strong-arm robbery of a student near West College Street and Cedar Street. The student reported that he was approached by an individual who made a derogatory remark about his perceived ethnicity and then physically knocked him to the ground.
Most recently, a person wearing what looked like a Ku Klux Klan outfit was spotted walking on campus near the Afrikan Heritage House.
Rightfully shocked and outraged, the school's administration formally cancelled class on Monday, and gathered the student body for a "day of solidarity." According to the New York Times:
At an emotional gathering in the packed 1,200-seat campus chapel, the college president, Marvin Krislov, apologized on behalf of the college to students who felt threatened by the incidents and said classes were canceled for "a different type of educational exercise," one intended to hold "an honest discussion, even a difficult discussion."
G/O Media may get a commission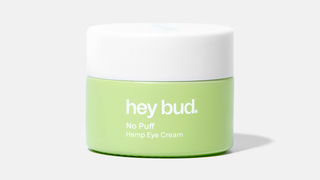 15% off
Hey Bud - No Puff Hemp Eye Cream
Because of this attitude and approach, many new student action and support groups have sprung up recently — tasking themselves with addressing the issue, and creating a safer, inclusive environment.
Although located in a rural town about 30 miles southwest of Cleveland, Oberlin has built its reputation on its progressive attitude and curriculum. Responses like this reflect those values. It's a welcome surprise to see a school tackle this head on, and some of its educators believe that's the key to stopping these incidents.
Anne Trubek, an associate professor in the English department, said that in her 15 years at Oberlin there had been earlier bias incidents but none so provocative. "They were relatively minor events that would not be a large hullabaloo elsewhere, but because Oberlin is so attuned to these issues they get addressed very quickly," she said.
While they're unsure who's responsible for this bullshit, campus security and local police are investigating.
*Your friend may or may not be Lena Dunham.
[NYT]
Related: Oberlin Has a Nasty Anonymous Message Board Problem