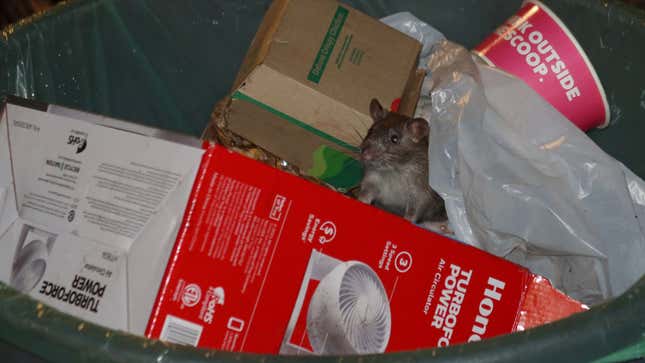 Our long national nightmare—which is actually just specific to New York City—is nearly over. On Thursday, the city's resident jester-in-chief, Mayor Eric Adams, announced that his search for a "Rat Czar" to handle the city's growing rodent fiasco has come to an end. NYC's rat slayer, meant to serve as the villain to all urban vermin, has been crowned. And what's that I hear? Perhaps the plink of a glass ceiling as it begins to shatter? Yep. That's right. New York City's forthcoming Rat Czar is a woman.

Taylor Lautner Doesn't Even Remember Saying 'Bella! Where the Hell Have You Been Loca?'
At an event hosted by the city's Health Department in the Bronx, Adams confirmed the candidate search was over. While he wouldn't disclose the identity of his pick, he did confirm the rodent assassin (who will reportedly make up to $170,000) is more of a Jennifer Garner in Alias type than a Jason Bourne aka a GIRL BOSS RAT KILLER. Our condolences go out to Curtis Sliwa, who, in January, announced his plan to release a colony of feral cats to tackle the city's rodent issue. I'm glad he has those cats to keep him company.
Adams also offered insight into one of his exchanges with the new czar during the interview process. "The first thing I asked her is, 'How do you feel about rats? And I was waiting for some type of, you know, 'Well, I think they should be around' — No. She made it very clear: 'I hate rats.'"
That sort of curt response is perfect for the job that described its ideal candidate as "highly motivated and somewhat bloodthirsty, determined to look at all solutions from various angles, including improving operational efficiency, data collection, technology innovation, trash management, and wholesale slaughter."
Working at a legacy feminist publication, this is the sort of story you dream of writing. Sure, a woman has yet to be president. But this? This is just as good, if not better. Woman Rat Czar. It's the sort of job you assume a brusque outer-borough man who drives a white van with the tag "& Sons" plastered on its sides gets hired for. Gendered division of labor? Baby, it's going the way of rats in New York City: exterminated!
One day I hope to not report on the gender of our city's esteemed Rat Czar. I envision myself being able to type something like, "Eric Adams and the city's rat czar have been caught embezzling funds meant for children's libraries to build world's largest rat trap" and not have people guffaw at that person's gender. But frankly, we don't yet live in a principled society that recognizes women's innate blood thirst for killing rodents. Until then, I will celebrate this small scurry forward in the long fight toward gender justice. Today we don't just have a rat czar, we have a rat queen.