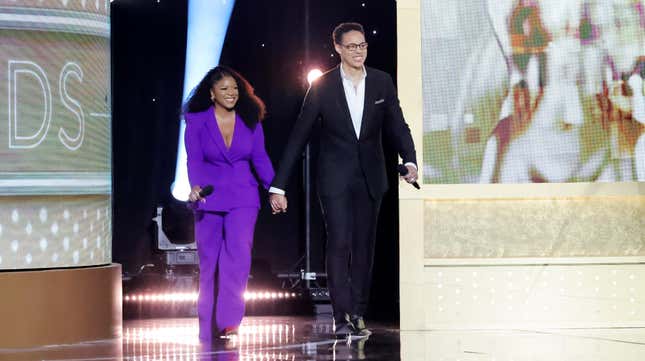 On Saturday night, WNBA star Brittney Griner and her wife Cherelle took the stage at the 54th NAACP Image Awards. The occasion marked just one of a few times Brittney has made a public appearance since she returned home from her long, nightmarish detention in Russia. Before either of the pair had said a word, and as Queen Latifah welcomed the couple to the stage, the crowd burst into applause, jumping to their feet to celebrate Griner's return to U.S. soil and safety. And the WNBA star was beaming.
To be able to write about Brittney Griner's expression of joy—let alone her taking the stage at one of the most culturally important American awards shows—is not something I take for granted. Last year, for nearly 1o months, many of us had to write about Brittney Griner remaining behind bars in a country where her very identity as a queer Black woman had been deemed criminal, over and over again. At one point, she was forced to cut off her locs because they had frozen while carrying out her sentence at a Russian work camp. For months on end, no one knew if she would ever come home.
But in the face of unthinkable hardship and against all odds, Griner isn't just home, but home and apparently happy. Smiling on the court during practice. Smiling at photoshoots for the Phoenix Mercury, for whom she is set to play with in the upcoming 2023 season. Smiling alongside her wife, who fought for her every single day Brittney was gone.

"We are just truly so thankful to all the people, many of whom are Black women and Black-led organizations, who fought so hard to bring BG home tonight," Cherelle began, addressing an audience filled with influential Black women—including Serena and Venus Williams, Tracee Ellis Ross, and Gabrielle Union. Many in the audience placed their hands on their hearts.

"It feels so good to be here, especially with my beautiful, amazing wife and with all of y'all here today. I want to thank everyone," Brittney concluded. "Let's keep fighting to bring home every American still detained overseas."

Of course, we can't know the extent of what Brittney and Cherelle are going through behind closed doors. After fighting an exhausting nearly year-long public battle to bring BG home, the couple should be given their space to heal and attempt to return to normalcy. Just because Brittney is back on the court and in the public eye doesn't mean she has easily settled back into her life. Still, her ability to keep her bright spirit intact after...all of that is worth celebrating at every turn.