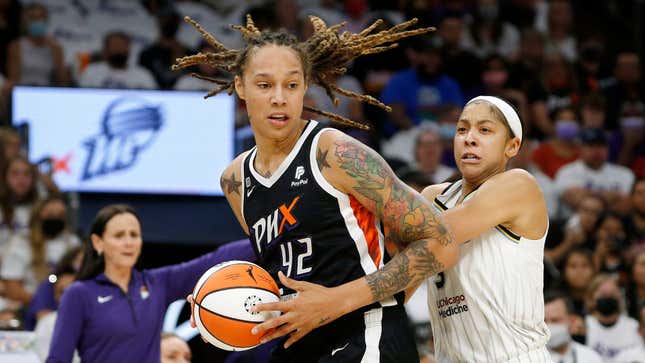 After a year that can only be described as cruel and harrowing, Brittney Griner is finally going to be back on the basketball court. Following her return to the U.S. after nine months of wrongful detainment in Russia, from which she was released in a prisoner swap, ESPN reports the pro-baller signed a one-year contract with the Phoenix Mercury. But according to Business Insider, Griner's $165,100 contract is a 32 percent drop from what she could have been offered last season—which she accepted so that the team could resign player Diana Taurasi, the WNBA's all-time leading scorer. Griner, a two-time Olympic gold medalist and six-time WNBA All-Star, had been making close to the maximum possible salary for the three seasons prior to her detainment—and was also eligible for a $234,936 supermax this season. 
Why Is Brittney Griner Being Detained In Russia?
While it's noble for Griner to take a pay cut in order to bolster her team's roster, it obviously points to a larger issue within the WNBA. According to Just Women's Sports, Griner is only one of a handful of pro women's basketball players that are taking pay cuts this year to boost their teams' talent, or create what is colloquially known as a "super team."

The outlet reports:
Prized free agent Breanna Stewart took "substantially less" money from the New York Liberty in order to create a superteam, ESPN's Ramona Shelburne reported in early February. She signed for $175,000 — significantly less than the $234,936 supermax for 2023.

Brionna Jones, who received a qualifying supermax offer, opted instead to sign with the Connecticut Sun for $208,000. In her move to the Las Vegas Aces, Candace Parker took a pay cut of nearly six figures, from $195,000 down to $100,000.
In this economy, it makes sense that even all-star athletes have to bite the bullet when it comes to financial negotiations, but for what it's worth, the WNBA's league salary cap this year is $17 million, while the NBA's league cap sits at a cool $134 million. The WNBA has long been trying to gain pay parity with their male counterparts (with incremental success inching them closer)—and in 2020, the WNBA signed a contract with the players' union that offered a pay increase, fully paid maternity leave, and a revenue split between the teams and the Association. Of course, there's still a long way to go.
The Mercury's season will kick off with a game against the Los Angeles Sparks on May 19, and regardless of who wins, I'm sure everyone will be celebrating Griner's triumphant return to the court.