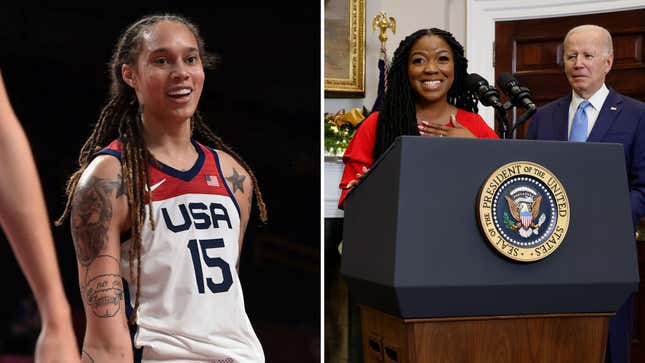 Brittney Griner, the WNBA star who's been wrongfully detained in Russia on drug charges for nearly 10 months—and was most recently at a penal colony with horrible conditions—was released Thursday in a prisoner swap for international arms dealer Viktor Bout, President Joe Biden announced at a press conference from the White House on Thursday morning.

Why Is Brittney Griner Being Detained In Russia?
"It is a good morning," Biden said, with Vice President Kamala Harris and Brittney's wife, Cherelle, by his side. "She's safe, she's on a plane, she's on her way home. After months of being unjustly detained in Russia, held under intolerable circumstances, Brittney will soon be back in the arms of her loved ones. And she should've been there all along."
Biden said that his administration "never stopped pushing for her release." But it wasn't until last Thursday, according to CBS News, that they were able to put the final stamp of approval on an exchange agreement with Moscow—likely because Russian President Vladimir Putin didn't want to give Biden a political win before the U.S. midterm elections.
The swap took place in the United Arab Emirates, and a White House official told CBS that President Biden spoke to Griner from the Oval Office Thursday morning on the phone, with Cherelle and Harris also in the room.

CBS News also reported that, during the summer, the U.S. offered to send two Russian prisoners in exchange for Griner and fellow American detainee, Paul Whelan, but that offer was rejected. Whelan remains detained in Russia, and Biden said that Griner remains set on bringing him home, as well.
"There is no greater success than for a wrongful detainee to be freed & for them to go home," the Whelan family said in a statement. "The Biden Admin made the right decision to bring Ms. Griner home, & to make the deal that was possible, rather than waiting for one that wasn't going to."
In the press conference, Biden mentioned that Griner explicitly asked him not to forget about Whelan, a marine who has also been wrongfully detained in Russia for nearly four years. "We never forgot about Brittney. We've not forgotten about Paul Whelan," he said. "This was not a choice of which American to bring home….Sadly, for totally illegitimate reasons, Russia is treating Paul's case differently than Brittney's…We are not giving up. We will never give up."

"BG and I remain committed to bringing every American home, including Paul whose family is in our hearts today as we celebrate BG," Cherelle added. "It's a happy day, so I'm just going to smile right now. Thank you, thank you very much."

Though Whelan's family has expressed relief over Griner's impending return, even as their own son remains locked away unlawfully, Republicans have quickly seized the opportunity to hyper-politicize the prisoner swap. Marjorie Taylor Greene tweeted that Biden choosing to swap a convicted arms dealer for a "professional basketball player" over a U.S. Marine was "another reason to impeach Biden." She failed to mention that Brittney Griner is a two-time Olympic medalist and human being who was in imminent and disproportionate danger as a Black queer woman who resided in an openly sexist and anti-LGBTQIA country for most of the year.

Misogynoir has run rampant on social media ever since the public found out the U.S. administration was in talks to trade Bout for Griner months ago. But even in the midst of wonderful news, those voices have only grown louder, crassly wondering whether Griner—who many on the right have called a "liberal celebrity"—is "ready to give up the fame of being a Russian prisoner to return to the obscurity of the WNBA."

Right-wingers aside, that negativity can't even come close to piercing the sheer joy of players and advocates across the league who tweeted, wore t-shirts, and gave interviews for the entirety of the 294 days Griner was detained. She would not be coming home had the voices of the players and her family not permeated through to the media and, by nature, the Biden administration.

In an email statement on Thursday, WNBA Commissioner Cathy Engelbert said:
"There has not been a day over the past ten months where we all haven't had Brittney Griner on our minds and in our hearts and that has now turned into a collective wave of joy and relief knowing that she will soon be reunited with her family, the WNBA player community, and her friends. BG has shown extraordinary courage and dignity in the face of enormous adversity. The WNBA is grateful beyond measure to the Biden Administration, the Special Presidential Envoy for Hostage Affairs, and all those who played a role in bringing BG home today. Our hope is that Paul Whelan and every wrongfully detained American will be returned home safely and as soon as possible."
Following up in a press briefing Thursday afternoon, Engelbert said their plans for Brittney's return include supporting both Griner and her family, adding that Cherelle is on her way to Texas where Griner will be evaluated medically.
"We'll give them their time and their space for them to reunite, and with her parents as well. So we're going to respect her privacy at this very critical time in her coming back home," Engelbert said. "We'll follow what Brittney and her family want to do about re-engaging with the WNBA and our players. I know our players are very anxious to re-engage and reunite with Brittney as well. So we'll follow the players' lead. We're a player-first league and what they want to do is what we'll try to broker."

When asked what the WNBA plans to do immediately in the wake of BG's return, Engelbert said she would continue to let "the players do what they want to do with their offseason." While she claims they are "chipping away at the economic model and growing the league," and have tripled the number of marketing agreements reached with players this year, she also encouraged players to pursue broadcast, coaching, or internship opportunities as other methods for securing higher pay and enabling them to stay on U.S. soil in the offseason.

"I think our players are going to do what they think is best for themselves and we definitely inform them all the time of the security risks of where they might be playing," she said. "Again, our players are going to do what's best for them in consultation with their families and their agents…and we're certainly going to provide them more opportunities to do things with the league in the offseason and keep the momentum going."

Engelbert repeated that the league needs a couple more years of "transformation" (a 3-5 year transformation since she entered the league, because "Rome wasn't built in a day") to better compensate the players. But she reiterated that she believes some of the players will want to continue playing overseas despite "learning some complex lessons" over the course of Griner's detention.

More details are sure to emerge, but in the meantime, Griner's family and friends, the WNBA, and every single American who protested, fought, screamed, and wrote about her detainment can at long last breathe a sigh of relief. Brittney Griner is coming home.