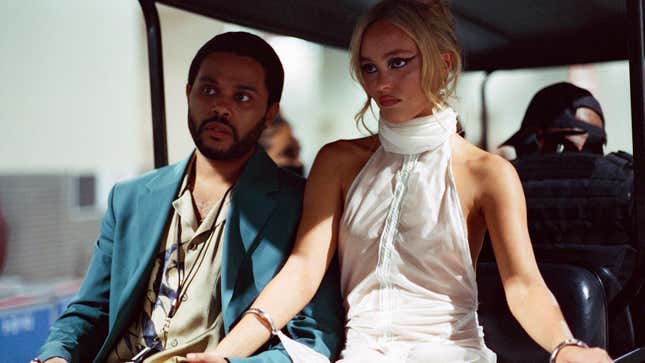 For little more than a millisecond, it appeared as though the season finale of HBO's The Idol might've regained the "feminist lens" it reportedly shirked thanks to the show's co-creator, The Weeknd (née Abel Tesfaye). The lazy, overall lackluster series largely opted for sex and shock value, though neither were particularly effective or even memorable. But in its finale episode, "Jocelyn Forever," protagonist Jocelyn (Lily-Rose Depp) was primed to have the final say in cult-leader Tedros' (Tesfaye) attempted siege of her career and personal life.
"There will be a turning [of] the table, and I think a really exciting set-up entering into Season 2…It will be very interesting to see how people respond to this last episode and see how things turn," Da'Vine Joy Randolph, who portrays Jocelyn's manager, Destiny, promised Variety in anticipation of the finale. "It's going to show you something different that we haven't seen in a while." Did it? Not really, but it definitely could've.
In the end, Jocelyn, the vulnerable pop star fresh off a stay in a psychiatric facility, is revealed to be a master manipulator capable of ruthlessly robbing longtime friends of their livelihoods, exaggerating childhood abuse, and very publicly dating a violent man who went to prison for human trafficking. In essence, the emotionally fraught young woman we've seen and been told by multiple characters has been exploited for much of her life is supposedly just...a two-dimensional girlboss. Whether the audience should respect or revile her is utterly unclear. Either way, I don't really care, which is to be expected when men of meager talent try to write a complex female character.
Early in the episode, tensions between Jocelyn and Tedros have escalated, and she effectively shuts him out of the creative process of her album and tour. This, after four insufferable episodes that see Tedros inflicting physical and psychological abuse upon Jocelyn and anyone that gets close to her, feels like something of a victory. Then, she holds a stiff—bordering on embarrassing—showcase for the harem of talented people Tedros moved (rent-free) into her basement for her management team. They're impressed—so much so that despite the fact that these individuals are entirely unknown and without a body of professional work, they'll be awarded the opening slot on Jocelyn's tour. Tedros won't receive credit for their discovery, and Jocelyn demands that he leave her home once and for all. This, too, seems like an encouraging shift for her who, by and large, has spent the season just kind of getting fucked (literally and figuratively). The aforementioned seemed like the groundwork for both a personal and professional reinvention in spite of Tedros, as opposed to one sanctioned by him. This was, unsurprisingly, not the case.

The purported turning of the table moment occurs in the finale's final moments as Jocelyn arrives at the venue and prepares for the first night of her stadium tour. An unexpected guest is, unfortunately, on the VIP list: Tedros. Now, keep in mind that in the penultimate episode, it's revealed that this rat-tailed weirdo has a rap sheet that includes domestic violence and human trafficking charges—all of which, we now learn, was exposed by a Vanity Fair reporter (Hari Neff) which cost him his club and whatever good name he had. Thus, his appearance at the box office to retrieve his reserved pass six weeks later is a head-scratcher. Jocelyn greets him as if they're still together and then, much to her team's shock, brings him on stage, credits him as "the love of her life," and kisses him before the eyes of thousands of rabid fans—any good PR she might've garnered be damned!
"You're mine forever," Jocelyn whispers to Tedros. "Now, go stand over there." Then, the credits roll. Apparently, the conclusion was meant to signal that this has always been Jocelyn's show—Tedros was just the man that...well, abused her for four episodes.
"Jocelyn is a very strategic and calculated person. She knows exactly what she wants and she'll stop at nothing to get it," Depp explained in an HBO commentary about the episode. "What we realize at the end is that Tedros was her muse and that she got what she needed out of him."
"I think a lot of the audience will watch maybe the first few episodes and think that this guy is taking advantage of her," Depp continued. "By the end he realizes that she knows exactly what he's doing and she knows exactly what she's doing."
I could easily blame Tesfaye for—in essence—writing and starring in fan fiction that borrows a little too much from his actual life. However, it's quintessential Sam Levinson that Jocelyn's preferred muse be a man who hasn't just caused harm to her, but only really inspired songs about allowing herself to be sexually dominated. The trauma of losing her allegedly abusive mother—or why Jocelyn would lie about her—proved infinitely richer creative soil to be mined but, sure let's go with another song that culminates with a climax.
"She needs to devour those around her to feel like she has something to say," Levinson said in the episode's commentary. "We also see how desperate Tedros has become...this pimp from the midwest who shows up in Beverly Hills ends up being the victim." Once again, only in Levinson's world can a "pimp from the midwest" capable of putting a shock collar on one of Jocelyn's oldest friends and frying him like his damaged split ends could be identified as a "victim." The young woman whose body has been capitalized on by lecherous industry folks since childhood? Nah, she's the villain, actually.

What else can I say, other than I'm elated this dumpster fire of a season clearly got cut short (despite HBO's denials), and that most everyone hated it. I also find it darkly funny that the men who created it thought they were telling a story about a woman with agency and it turned out to be every bit the nonsensical "torture porn" the Rolling Stone on-set investigation said it was. Anyway, long live Dyanne's version of "World Class Sinner."