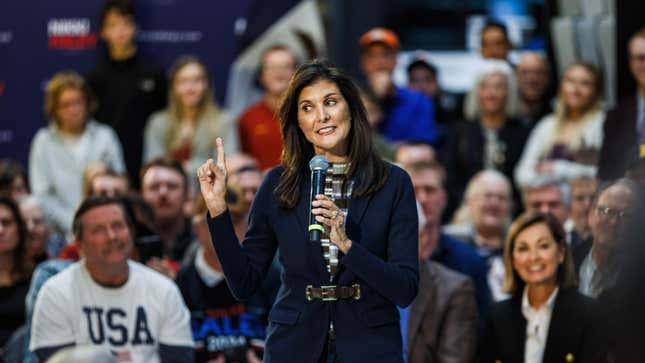 Former South Carolina Governor and Republican presidential candidate Nikki Haley thinks politicians over the age of 75 should take mental competency tests, but apparently only if they're Democrats or Independents.
Republicans Pull Out All the Stupid Stops While Debating Abortion
At an Iowa campaign event Tuesday, Haley responded to a question about the proposal by saying, "Bernie Sanders lost his mind because I asked for that. He is exactly the reason we need it." (The 81-year-old Vermont Independent criticized the concept as "nothing more than old-fashioned ageism.") Haley then continued unprompted to address comments from The View co-host Whoopi Goldberg: "Whoopi Goldberg lost her mind over it—and you know what she was doing? She was glorifying Dianne Feinstein and Maxine Waters. They are exactly the reason we need it." Rep. Waters (D-Calif.) is 84, and Sen. Feinstein (D-Calif.), 89, just announced that she won't run again.
Curiously, Haley had nothing to say about Sen. Chuck Grassley (R-Iowa), who is 89 and at the start of another 6-year term—probably because she wants his endorsement.
Haley's proposed competency test and overall campaign pitch that she's a new generation of leader is an implicit rebuke of former President Donald Trump, who is 76. And I really do mean implicit because she has not questioned Trump's capacity to serve a second term, despite his extreme difficulty in forming a coherent sentence. (Trump for his part, apparently welcomes the idea, saying Tuesday on Truth Social that anyone running for president, no matter their age, should take a mental competency test. Unsurprising for someone who considers himself a very stable genius.)
G/O Media may get a commission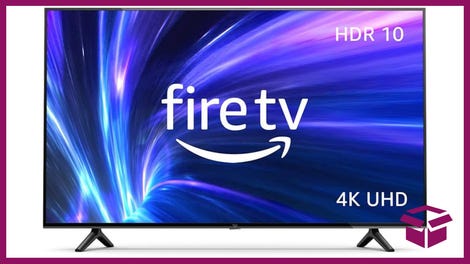 42% Off
Amazon Fire TV 50" 4K Smart TV
Haley and her campaign seem to think dunking on politicians over 75 will be a net positive, but Politico found that older voters in Iowa don't love it. We'll see how this strategy pans out for a candidate running in a party that relies on older voters.