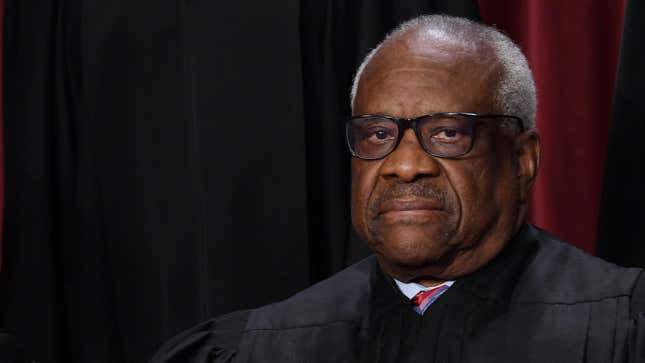 The identity of another of Clarence Thomas's wealthy benefactors is now public knowledge. On Thursday, ProPublica revealed Thomas has received gifts from oil baron Paul "Tony" Novelly, expanding into a new industry for the justice.
Anita Hill, Like Many of Us, Thinks Clarence Thomas is Full of Sh*t
The investigative outlet reported that Thomas (and his wife, right-wing election-denying loon Ginni Thomas) have received:
"At least 38 destination vacations, including a previously unreported voyage on a yacht around the Bahamas
26 private jet flights, plus an additional eight by helicopter
A dozen VIP passes to professional and college sporting events, typically perched in the skybox
Two stays at luxury resorts in Florida and Jamaica
And one standing invitation to an uber-exclusive golf club overlooking the Atlantic coast
Wow! Congrats to the Thomases on their large living on other people's dimes; I'm sure they didn't trade any problematic political favors for any of that.
ProPublica estimated the cash total of gifts Thomas received since appointed to the Supreme Court in the 90s as "likely in the millions." Thomas's previously revealed billionaire benefactors include real estate tycoon Harlan Crow, executive David Sokol, and businessman H. Wayne Huizenga.
Multiple ethics experts told the investigative news outlet that the scope of unreported gifts was staggering. "In my career I don't remember ever seeing this degree of largesse given to anybody," Jeremy Fogel, a former federal judge who reviewed judges' financial disclosures, told ProPublica. "I think it's unprecedented."
Let's take one example of a private plane trip provided by Huizenga, the co-founder of Waste Management who helped make Blockbuster a national success. Thomas went to South Florida on Huizenga's private 737 at least twice, per ProPublica. Jet companies estimated those trips would cost at least $130,000 each time.

Okay, not that much in the grand scheme of things. What about Novelly's yacht trips? Former yacht workers told ProPublica that Thomas came multiple times on Novelly's annual spring fishing expedition aboard a 126-foot yacht to the Exuma Islands. "Novelly's local chauffeur in the Bahamas said his company once picked Thomas up from the billionaire's private jet and drove him to the marina where one of the yachts, Le Montrachet, frequently docks," the outlet reported.
Novelly normally charges $60,000 per week. What a steal for Thomas!
What about executive David Sokol's gifts? Sokol hosted the Thomases "virtually every summer for a decade." Sokol liked to invite the Thomases to University of Nebraska-Lincoln football games, usually the first home game. (Ginni attended the university before transferring. The football team is not good enough to just be going to games.) The Supreme Court justice met with the football team, walked out of the on-field tunnel before kickoff and watched the marching band perform from the sidelines. "The Sokols took four lucky couples to the first Nebraska footbal game of the season," Ginni captioned a photo of herself, her husband and two other couples in a card published by ProPublica.
The couple watched the Saturday game from former coach and former Republican Rep. Tom Osborne's skybox, which cost about $40,000 a year. Thomas never reported any of the tickets to the reported seven University of Nebraska-Lincoln games he attended. By comparison, ProPublica found more than 60 federal judges who disclosed sport tickets gifts during this century. Gifts above $415 have to be reported. "It's so obvious," Richard Painter, former chief White House ethics lawyer for President George W. Bush, told ProPublica. "It all has to be reported."
The last sporting event reported by Thomas was a "private flight and accommodations" at the 1999 Daytona 500. After that football game, Sokol and Thomas flew by private jet to Sokol's private ranch in Wyoming. There they fished and rafted. Clarence Thomas #1 fanboy Mark Paoletta and his wife, Tricia, serenaded the couple with an original song, which honestly sounds like my nightmare. (Paoletta told ProPublica that although he didn't report the trip, he didn't actually have to because he reimbersed Sokol for the trip. "I complied with all ethics laws and regulations," he told the outlet.)
Will this be the conflict-of-interest scandal to finally get Congress to enact court expansion? Enact an ethics policy for Supreme Court justices? Or will it be yet another thing for our elected representatives to ignore because they're too scared to face potential corruption head on? My bet's on the latter.