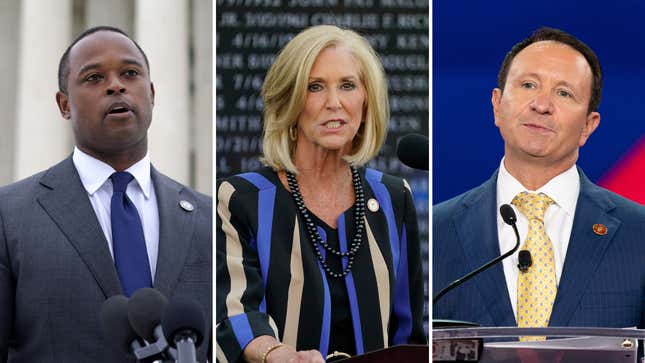 In April, the Biden administration proposed a change to medical privacy laws that would ban doctors and nurses from reporting suspected abortions to law enforcement. Now, a group of 19 Republican attorneys general is asking them to withdraw that change so the cops in their states can keep going after formerly pregnant people.
UterUs Weekly: February 11, 2022
The AGs, led by Lynn Fitch of Mississippi, say the administration's plan to close a loophole to the Health Insurance Portability and Accountability Act (HIPAA) "would unlawfully interfere with States' authority to enforce their laws, and does not serve any legitimate need."
Under current HIPAA rules, it's legal—though unethical—for healthcare workers and insurance companies to share abortion information with police when they believe a crime has been committed or when they receive a subpoena. The Biden administration wants to make that illegal, but Republican AGs are formally objecting. All 24 Democratic AGs support the new HIPAA rule, while nearly 50 Congressional Democrats—led by Sens. Ron Wyden (D-Oregon) and Patty Murray (D-Wash.)—told the administration the changes don't go far enough to protect people from criminalization. Namely, they believe the rule should require law enforcement to obtain a warrant.
The Mississippi Free Press first published the letter, which is signed by two candidates running for governor this year: Daniel Cameron of Kentucky and Jeff Landry of Louisiana. The other state signatories are Alabama, Alaska, Arkansas, Georgia, Idaho, Indiana, Missouri, Montana, Nebraska, North Dakota, Ohio, South Carolina, South Dakota, Tennessee, Texas, and Utah.

The news outlet said the AGs were concerned with out-of-state abortions, but the text of the letter is clear: They object to the entirety of the proposal to close the HIPAA loophole. "The proposed rule would thus curtail the ability of state officials to obtain evidence of potential violations of state laws...The statute does not empower HHS to shield from authorities evidence of legal wrongdoing under state law based simply on a claimed connection to 'health care,'" they wrote.
Roger Severino, a former Trump administration HHS official now at the Heritage Foundation, made conservative aims even more explicit. "If someone says, 'I'm going to kill myself' or 'I'm going to kill somebody else,' medical providers are allowed and in some cases required to disclose that information to law enforcement," he told Politico. "But if there's an imminent threat to an unborn person in a pro-life state, this rule would prohibit the provider from disclosing that information to save that life. They're creating an abortion exception to the HIPAA regime." Severino expects the AGs will sue.
The AGs repeatedly cite Dobbs v. Jackson Health Organization, the case the Supreme Court used to overturn Roe v. Wade last year, in support of their argument that abortion is a state matter now, any federal regulations be damned. Here's an example from the final paragraph:
HIPAA authorizes HHS to safeguard the privacy of individually identifiable health information. HIPAA does not authorize HHS to make broad policy judgments overriding or interfering with States' decisions to protect "prenatal life," "maternal health and safety," and "the integrity of the medical profession." Dobbs, 142 S. Ct. at 2284. The proposed rule would defy HIPAA, our constitutional system, and the Administrative Procedure Act. The Department should abandon the proposed rule.
Fitch, who represented Mississippi in Dobbs, asked for Health and Human Services Secretary Xavier Becerra to withdraw the proposed rule. She says it defies the Constitution, suggesting the Republican AGs might sue if HHS moves forward.
The letter claims that the Biden administration is pushing "a false narrative that States are seeking to treat pregnant women as criminals or punish medical personnel who provide lifesaving care." It continues: "Based on this lie, the Administration has sought to wrest control over abortion back from the people in defiance of the Constitution and Dobbs." But states are already treating pregnant women as criminals—even blue states that haven't passed abortion bans—which was part of the administration's reasoning for moving to close the loophole.
A Nebraska teenager will be sentenced this week on charges related to a self-managed abortion with pills from April 2022. The state doesn't explicitly ban self-managed abortion, but rather it charged her with other crimes, including concealing or abandoning a dead body, concealing the death of another person, and false reporting. State lawmakers can claim pregnant people are exempt from their abortion bans, but that doesn't prevent law enforcement from criminalizing them under other statutes.
The Republican AGs further complained that the new rule would prevent states from investigating people who help others get abortions: "The bar on disclosure would not be limited to investigations or proceedings involving the person who sought 'reproductive health care.' Rather, it would apply to investigations or proceedings involving 'any person' in connection with such 'care.'"
Fitch also accused the administration of wanting to use the proposed rule to "obstruct state laws" on gender-affirming care, but the HIPAA rule wasn't about that. In an April press release, the administration defined reproductive health care as including, but not limited to, "prenatal care, abortion, miscarriage management, infertility treatment, contraception use, and treatment for reproductive-related conditions such as ovarian cancer." (The Democratic AGs urged the administration to include gender-affirming care in the rule.) Fitch claimed, "Given its far-reaching and radical approach to transgender issues, the Administration may intend to use the proposed rule to obstruct state laws concerning experimental gender-transition procedures for minors." This feels like little more than a cynical attempt to engage voters who are supportive of abortion, but less supportive of gender-affirming care.

Expect to hear a lot more about HIPAA and abortion in the coming months when a lawsuit is inevitably filed.