In May of this year, New York Times reporter Sarah Maslin Nir published a deep-dive investigation into exploitation, unfair labor practices and health hazards at New York City nail salons. Since the series was published, nail technicians tell the Columbia Journalism Review, life is changing gradually but definitely for the better.
Nir's two-part series, "The Price of Nice Nails" and "Perfect Nails Poisoned Workers," came in for both praise and significant criticism. New York quickly passed a laws requiring salons to display a workers' bill of rights; the state also launched an inspection task force and launched an education campaign to inform workers about labor laws and their legal rights.
At the same time, the series was attacked, first by salon owner and former NYT reporter Richard Bernstein in the New York Review of Books, then by Reason, the Libertarian magazine, who have written nine or so pieces calling the story misleading and accusing Nir of serious factual errors.
The Columbia Journalism Review spoke to both nail technicians and salon owners; one nail tech, an undocumented woman named Carmen, explained how the series gave her an understanding of her legal rights. Her boss can no longer use her immigration status as a cudgel; her pay has increased from $60 for a 10-hour day to $75 for eight hours. Her boss hung up the mandatory new Bill of Rights, and from her co-workers Carmen learned that she could apply for a "trainee license" that would allow her to earn more while working towards a full nail tech certification. Better still, her boss can't use her immigration status against her, CJR writes:
In the months since the Times story appeared, Carmen's life has changed incrementally for the better, though it's far from perfect. "When an inspector comes in, we don't have to run out now," she tells CJR. "Before, when the inspector came, [my boss] said, 'Immigration is coming! Run!'"

Perhaps more importantly, and due in no small part to the required Bill of Rights and the intervention of activists like the ones Carmen met at Workers United, she now has the language to discuss her rights and the laws that pertain to her—and the confidence to use it. The media attention reminded readers that nail salon workers are protected by the government, but for the workers themselves, it wasn't necessarily a reminder. It was news.
G/O Media may get a commission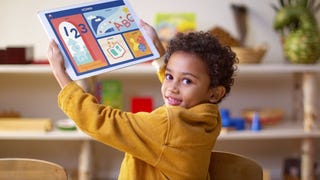 30-Day Free Trial
Homer Learn & Grow Program
Salon owners, meanwhile, told the publication that the series portrayed them inaccurately or unfairly; from Sona Gurung, a Nepali salon owner who is quoted in Nir's piece as saying $35 a day is a good wage for a salon worker:
But in an interview, Gurung said she'd told Nir something different: that her own starting salary 18 years ago was $35, and that it had been good for her. She also said that when asked, her employees denied telling Nir they were paid $35. "I trust my employees," says Gurung, who is not the first source to challenge her portrayal in the story.

Gurung says the new laws make it difficult for small business owners like herself, and she has a point. In the wake of the series, the state has required that owners purchase a wage bond—insurance that can be used by the courts in the event that owners attempt to evade paying workers. The Korean American Nail Salon Association and the Chinese Nail Salon Association sued the state in September, saying the wage bond requirement imposes an unfair burden on owners. But the lawsuit was recently dropped after a court ruled the state had "sufficiently demonstrated that nail salon workers are being deprived of legally due wages."
The wage bond lawsuit was dismissed in early December, and salons are now required to purchase the bond.
In October, a group of salon owners picketed the Times offices, calling the story unfair and inaccurate. Meanwhile, the union Workers United, a division of SEIU, said in November that in organizing with salon workers, they've found many of the same poor labor practices still exist. They accused the nail industry of focusing their attention on paying living wages and the wage bond: "the anti-worker owners associations would rather spend their money to pay lawyers and lobbyists to fight new regulations and minimal requirements."
---
Contact the author at anna.merlan@jezebel.com.
Public PGP key
PGP fingerprint: 67B5 5767 9D6F 652E 8EFD 76F5 3CF0 DAF2 79E5 1FB6
A customer getting a manicure at Castle nail salon, New York, January 2015. Image via A.