At 10 a.m. on Tuesday, October 6, a large crowd of nail salon owners and workers gathered outside the Manhattan offices of the New York Times. They came demanding apology and retribution for a two-part exposé by Sarah Maslin Nir, which, they say, has caused "grievous harm to our reputations and to our small shops."

Bullhorn-wielding workers* paced up and down in front of the protesting crowd, all of whom were confined behind police issue metal barriers. A few officers hovered nearby, eyeing the workers warily. "New York Times, stop lying! We need an answer! New York Times, we need the truth! New York Times kills jobs!" they chanted.
During a lull, I approached the protestors, almost all of whom were women. Many people were either unable or unwilling to talk to me, but finally one salon owner spoke up. "This is the Chinese community, and we've all come together because of the New York Times' misleading article," he said. "I couldn't say discrimination, but the New York Times is not doing the fair thing for our community."
Nir's series, entitled Unvarnished, garnered a massive amount of attention when it was published in May, and it's easy to see why: it was a sharp, vivid, affecting work of investigative journalism, which took Nir and several translators over a year to report, and draws from interviews with "more than 150 nail salon workers and owners [who] endure all manner of humiliation, including having their tips docked as punishment for minor transgressions, constant video monitoring by owners, even physical abuse."

G/O Media may get a commission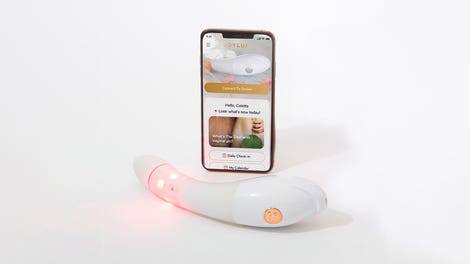 $50 Off
Joylux vFit Gold Device
Days after Nir's article hit newsstands, Governor Andrew Cuomo put together an unprecedented emergency task force intended "to prevent unlawful practices and unsafe working conditions in the nail salon industry." Response to this measure was, on the one hand, overwhelmingly positive; it seemed like a testament to the power of journalism. However, protests such as the one held on Tuesday have been taking place regularly ever since; one held on September 21 reportedly attracted 500 people.
"We will not stand idly by as workers are deprived of their hard-earned wages and robbed of their most basic rights," Cuomo said last summer. "This Task Force will crack down on these kinds of abuses in the nail salon industry, enforce all of New York's health and safety regulations, and help ensure that no one—regardless of their citizenship status or what language they speak—is illegally victimized by their employer."
The governor made good on his promise: in August, the state inspected 182 salons, 43 percent of which were found to not pay minimum wage or overtime. 87 percent neglected to provide employees with wage statements or pay stubs, and approximately three out of five nail salon employers admitted they did not maintain payroll records. On August 10, Cuomo announced that salons with two or more full-time employees must secure wage bonds before October 6 (the day of the Times protest), or else risk being shut down or fined.
Though Cuomo's task force was put together for the well-being of nail salon workers, the protestors seemed to see its effects as primarily negative: shutdowns, stigma, fines. Furthermore, no one was challenging the veracity of the task force's findings outright: as their protest's placement made clear, they seemed to take primary issue with the Times piece itself.
Within Unvarnished, Nir shadows workers like 20-year-old first-time manicurist Jing Ren. Ren, newly arrived from China, becomes one of the many New York City women jumping into "cavalcades of battered Ford Econoline vans" for the trip to one of thousands of nail salons spread across three states.

Ms. Ren worked at Bee Nails, a chandelier-spangled salon in Hicksville, N.Y., where leather pedicure chairs are equipped with iPads on articulated arms so patrons can scroll the screens without smudging their manicures. They rarely spoke more than a few words to Ms. Ren, who, like most manicurists, wore a fake name chosen by a supervisor on a tag pinned to her chest. She was "Sherry." She worked in silence, sloughing off calluses from customers' feet or clipping dead skin from around their fingernail beds.

At night she returned to sleep jammed in a one-bedroom apartment in Flushing with her cousin, her cousin's father and three strangers. Beds crowded the living room, each cordoned off by shower curtains hung from the ceiling. When lights flicked on in the kitchen, cockroaches skittered across the countertops.
Ren, who appeared kind, hardworking and thoroughly exploited, was an utterly compelling protagonist. The reductive but essential nature of journalism—the fact that the stories of carefully selected individuals will be held up as representative of a universal truth—made her a powerful representative of a community that is often ignored in New York City. And yesterday, outside the intimidating fortress of glass and steel that houses the Times, other members of the same community told a conflicting story.
"We are mom and pop shops owned by immigrants from Asia, who created this business more than 30 years ago," reads a flyer distributed at the demonstration. "There are more than 3,000 salons in New York, and the vast majority pay their workers reasonable, legal salaries, plus tips and commissions. Every day, the Asian-language newspapers are rife with classified ads placed by hundreds of salons in the New York area seeking qualified workers and offering salaries that are entirely legal. Contrary to the false assertion in the New York Times, there are no ads for licensed manicurists paying $10 a day—none."

"There's one ad that the New York Times tried to use to prove that interns have to pay for training, but the ad actually says $75 basic pay plus $10 as a training fee," said a woman named Zhong Mei, age 50. "But the article says there's $10 payment in all the ads. No one would be working for us. Our business would be closed way before the article came out. Nobody would be coming in for an interview. We pay for the learning process, but according to the Times we are guilty."
The nail salon narrative put forth by the Times has been contested in public before, by the New York Review of Books, in an essay that instantly attracted criticism for being written by Richard Bernstein, "a former New York Times journalist who also has been, for the last twelve years, a part owner of two day-spas in Manhattan."
Bernstein found the conclusions of the article to be overly sweeping and exaggerated, so he went about investigating its specific claims with his wife Zhongmei Li and sister-in-law Zhongqin Li. Bernstein wrote that he was not convinced that many of the advertisements referenced by Nir in her article as examples of "astonishingly low wages" could actually be found in Chinese newspapers.
On July 18, the Times published a rebuttal to Bernstein's article:
As for Mr. Bernstein's contention that the lowest wage he was able to find in a classified ad was $70 a day, Ms. Nir and her team had a different experience. When examining newspapers from last year, prior to the editions perused by Mr. Bernstein and his wife, they found plenty of examples of salons advertising jobs paying well below minimum wage.

One from June 19, 2014, in the World Journal, for example, showed a starting wage of $40 a day for "small job," an industry term referring to how the worker fits in the hierarchy of jobs in a salon. (Ms. Nir and her team found that manicurists typically worked 10 or 11 hour days.) Another ad from July 17, 2014 in the World Journal also showed a $40 a day wage. And another one from April 17, 2014 showed a pay range of $40 to $90 a day. These examples were taken from a random sampling of days.
When I spoke to Zhong Mei, she challenged this section of the Times rebuttal directly, saying that the newspaper had made a crucial mistranslation. "[The Times] pulled from June 2014 and they said that the advertisement said a starting wage of $40, but actually this was listing the price of manicures." She told me that salon owners often list the price of services in advertisements for new hires. Doing so, she said, informs prospective employees whether or not the salon is high-end, in turn alerting them to how much they can expect to make in tips.
The flyer handed out at the event further challenged the paper: "The sole specific workers cited by the Times as being cheated of wages consists of the small numbers of interns that some salons hire, offering them training in exchange for which they are paid low salaries for a period of up to 10 or 12 weeks. But law firms, publishing companies, art galleries, and interns have interns paid nothing at all, and they are not accused of 'wage theft.' So far from being 'rampantly exploited,' our interns are saving more than $900 that they would otherwise have to pay for formal beautician training."
During a conversation with journalist Liza Mundy at a New America NYC event at City Hall, Nir stated that the idea to report the story came to her over four years ago, while she was getting a pedicure at a 24-hour nail salon in Koreatown; the pedicure was a birthday present to herself. Nir, curious about how the night shift responsibilities were delegated, asked her nail technician how the system worked:

Her pedicurist replied that she worked both the day and the night shifts; six days a week, she slept in a barracks above the salon. "When someone comes for a treatment at night, they shake me awake and I come down to do the treatment," the woman explained to Nir. At the end of the week, she would return to her apartment in Flushing, Queens, to sleep for 24 hours before returning to work.

"It still gives me shivers to tell the story," Nir told Mundy, who directs New America's Breadwinning & Caregiving Program. "At that moment I just thought: This woman is enslaved."
That's the moment that led to Nir's eventual story, which covered not only labor exploitation but dire health hazards. The second part of the salon series, "Perfect Nails; Poisoned Workers," describes cosmetologists suffering from cancer, abnormal fetal development, respiratory ailments; the list goes on.
Re-reading the story, I was reminded of the woman who cuts my hair: on a whim, I went to a barber shop and showed the hairdresser a picture of Ruby Rose. While shaving the sides of my head, she told me that doing women's hair was her true passion, but that she'd had to leave her old job because the cost of spending every day dying hair with noxious chemicals became too much. "I'd go home and try to go to sleep, but I couldn't sleep because I couldn't breathe," she'd said, adding that she had constant, debilitating headaches.
"We're the immigrants," says Zhong Mei. "I have a family to support, I have children. We don't have a really rich mom and dad, but we never complain about how hard we have to work, because we believe that hard work pays off. Nail salons are open 24 hours a day because we believe in hard work."

"People pay for quality," she concluded. "If you went to a salon and the technician messed up, you would be really upset. It's important for the quality and the service to be standard. We make beauty so people can be happy when they return home; join their families on vacation. We want to enjoy our work, enjoy our freedom. We'll never complain. But we don't have good writing skills, so the New York Times will never hire us."
Nir has stood behind her story on social media, tweeting on August 25th that she wondered if nail salon workers were being paid during their so-called "strike." On September 28th, a week after workers picketed outside of her office while she was on vacation, she still seemed unmoved by the campaign.
When I called Nir on Wednesday morning to discuss the allegations made by the protestors, she was more tight-lipped. "I deeply respect the people's right to express their opinion," she said.
*An earlier version of this story incorrectly stated that the workers were represented by the Korean American Nail Salon Association of New York and the Chinese Nail Salon Association of East America. The post has been updated with the correction.
---
Images via the author.
Contact the author at helenbholmes@gmail.com.