Everything is stupid, and so are we. Welcome to Jezebel's Stupidest Summer Ever, a season-long celebration of our worst, most idiotic thoughts and opinions.
Almost two months have elapsed since my cat got the haircut that would change her life; I am pleased to report that at the end of this grand experiment, everything has changed for the better.
My greatest fear—that Daisy's body would not recover from the trauma of the haircut and that her hair would never grow back—has not been realized. Her flesh no longer resembles a fresh haircut. The fur returns with a vengeance. But her indomitable spirit has remained. I will never know if she was embarrassed or not, for I feel confident in saying that most of it was projection. Her confidence has skyrocketed; she is a new woman; she is the "after" photo in a B-movie, after the heroine endures a haphazard makeover montage and emerges triumphant on the other side.
The boy cat, whose presence has long been her greatest challenge, is now deferential to her, perhaps entranced by her great beauty or the fact that, from behind, her droopy midsection looks like a pair of enormous, furry balls. She has taken his spot under the chair in the dining room; he must settle for splaying his large body on the rug near her feet, in what looks like a quiet, simmering rage. This shift in power dynamics has been unsettling for our household, but ultimately, it is what Daisy has always wanted. It's what she deserves.

G/O Media may get a commission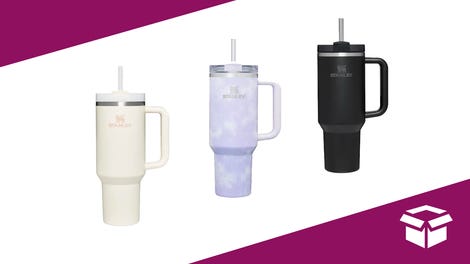 Up to 45% off
Stanley Cup Sale
When viewed straight on, her head now clearly belongs to her body. The cognitive dissonance created by her freshly shorn bod supporting an Elizabethan neck ruff made of soft fur is gone. Her Ugg boots are gone (I will miss those the most), but her tail is still my favorite punchline—a shaggy Q-tip that she grooms with diligence and with care. By winter's first snow, her hair will return. She will once again resemble a pile of dirty laundry, a stray black shirt I forgot about on the floor in my room. Her body will be obscured once more. The cognitive dissonance created by just looking at her body will disappear, but she will never lose what she learned. Her journey back to has really just begun.
Regrets: None.