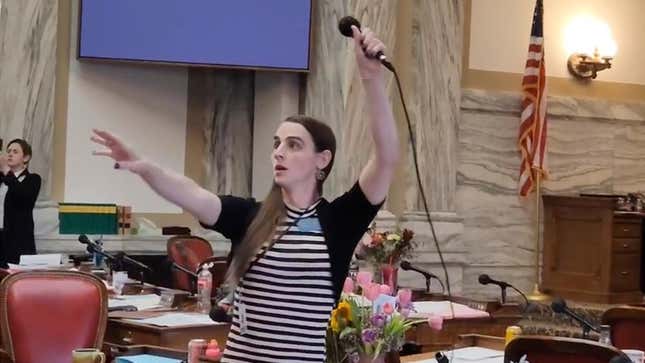 Montana Republicans refused to let state Rep. Zooey Zephyr (D), the state's first openly transgender lawmaker, speak on the House Floor for the third day in a row on Monday, leading to the arrest of seven raucous civil rights protesters who were among those demanding Zephyr be allowed to represent her constituents.

After a vote on whether or not Zephyr would be able to speak on a bill concerning children using different pronouns at school, House Speaker Matt Regier (R) shut off her microphone, and visitors in the galleries began chanting, "Let her speak!," according to video from the Montana Public Affairs Network. Reiger instructed lawmakers to clear the floor as security removed the protesters, but Zephyr remained on the floor, holding a microphone up to capture their voices.
"It's not enough for them to get the harmful bills through," Zephyr told Scripps reporters shortly thereafter. "When someone stands up and calls out their bills for the harm they cause, for the deaths they cause, they want silence. And we will not be complicit in our eradication."
The lawmaker then followed the protesters to the detention center, where they were booked and charged with misdemeanor criminal trespassing.
The efforts to silence Zephyr began at the end of last week, after she told Republicans they would have "blood on their hands" if they voted to approve a bill banning gender affirming care for minors. (They did indeed pass it, and Republican Gov. Greg Gianforte has indicated that he will sign it.)
In response, the chamber's far-right Freedom Caucus demanded that she apologize. According to the Associated Press, Republican Rep. Caleb Hinkle—who also signed a letter calling for her censure that misgendered her—said, "Hate-filled testimony has no place on the House floor."
The twisted reality, of course, is that Hinkle, Reiger, and their Republican colleagues are the ones spreading hate. They have put forward and are likely to pass multiple bills that target trans youth, a population that already faces overwhelmingly high rates of mental health issues. In 2022, the Trevor Project's annual survey found that more than half of transgender and nonbinary teens had seriously considered suicide in the previous year; nearly 20% attempted it. Feeling unwelcome in their school and community—something these bills would legally mandate—significantly increased their reported suicide attempts.
The Montana protesters are not the first to interrupt a recent legislative session, nor is Zephyr the first legislator to join them: In early April, Democratic Tennessee state Reps. Justin Pearson, Justin Jones, and Gloria Johnson joined protesters demanding the chamber take up the matter of gun control, following a shooting at a Nashville elementary school. State House Republicans voted to remove Pearson and Jones, both young Black men, from their seats, though both have since been reinstated.