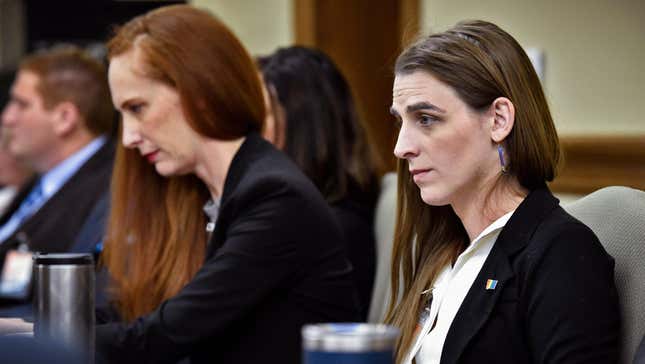 Montana's Republican-controlled legislature is punishing the state's first trans representative for speaking out about proposed anti-trans legislation by refusing to recognize her to speak on any bills moving forward.
Taylor Lautner Doesn't Even Remember Saying 'Bella! Where the Hell Have You Been Loca?'
On Thursday, State Rep. Zooey Zephyr (D) pointed out she wasn't being called on at all during a debate about defining sex in state law as not including trans people. "No amount of silencing tactics will deter me from standing up for the rights of the transgender community. This year, I have lost friends to suicide, and I have listened to the heart-wrenching stories of families dealing with suicide attempts, trans youth fleeing the state, and people being attacked on the side of the road—all due to legislation like this," Zephyr said in a statement. "I will not apologize for speaking with clarity and precision about the harm these bills cause."
A rules committee decided that the leader of the State House can opt to not recognize individuals without giving an explanation, Zephyr said. "This decision is a direct assault on the principles of our democracy and serves to silence the voice of my community, as well as the 11,000 constituents I represent."
Zephyr is being silenced for having spoken out against an anti-trans bill on Tuesday. "This body should be ashamed," she'd said. "If you vote yes on this bill and yes on these amendments I hope the next time there's an invocation, when you bow your heads in prayer, you see the blood on your hands."

The Montana Freedom Caucus then sent a letter demanding her censure "for attempting to shame the Montana legislative body and by using inappropriate and uncalled-for language during a floor debate." They also misgendered Zephyr repeatedly in the letter. Zephyr was speaking out about amendments to state Senate Bill 99, which banned gender-affirming care for minors. (The bill has sent been to the Republican governor for his signature.)
In 2022, Zephyr was the first trans woman elected to the state's legislature. SJ Howell, a nonbinary politician, was also elected to the state legislature that cycle. The bills Zephyr has spoken out against are among a nationwide trend to eradicate trans and gender-nonconforming people from public and private life. Conservative lawmakers at all levels of government have found that making trans people (sometimes using the larger blanket of LGBTQ) a boogeyman, they can win political victories large and small. Targeting abortion is a losing issue, but targeting trans people—a small subsection of the American population—has apparently been deemed a winning conservative issue.

The targeting of trans people is a part of a larger war against bodily autonomy. While trans people might be the victim of the current Republican wins, everyone loses when bodily autonomy is restricted. By allowing anti-trans policies to go into effect, we open the door for laws further curbing the right to our own bodies, as I wrote last year.
On Thursday, Zephyr's Democratic colleagues stood (literally) in solidarity with her in the chamber as Republicans continued to ignore her.
Zephyr also called out the Freedom Caucus's decorum-loving statement. "Montana Republicans say they want an apology, but what they really want is silence as they take away the rights of trans and queer Montanans."
Her righteous fight might seem small and futile in a conservative state, but it's a worthwhile one.