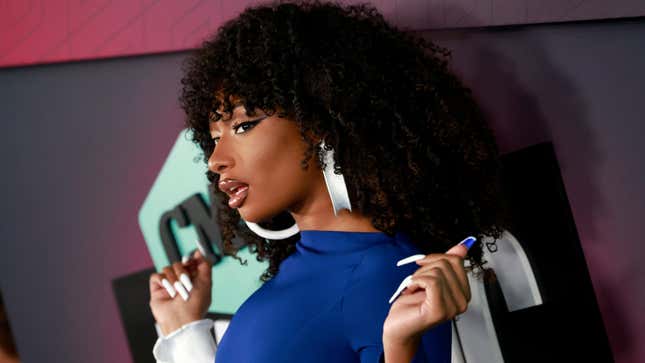 In December, a Los Angeles jury found rapper Tory Lanez guilty of assault with a semiautomatic firearm—among other crimes—for shooting Megan Thee Stallion in July 2020. The guilty verdict came after years of not just denials from Lanez, but targeted harassment aimed at Megan, to the detriment of her mental health: She testified last December that she wished Lanez "would have just shot and killed me if I knew I would have to go through this torture."

Watch Alex Jones Realize He's About to Get Busted For Perjury
In a personal essay for Elle's May issue published on Tuesday, for the first time, Megan wrote at length about what she endured in the years between the shooting and the guilty verdict, connecting her experience to the experiences of other survivors who face public bullying and mockery as a systemic deterrent from coming forward. "Not only did I survive being shot by someone I trusted and considered a close friend, but I overcame the public humiliation of having my name and reputation dragged through the mud by that individual for the entire world to see," Megan wrote.
For years, Lanez "laughed and joked about my trauma," and "tried to leverage social media to take away my power." Megan notes that she initially intended to "[handle] this situation privately"—only for her attacker to make the situation public. His extensive social media use prompted an avalanche of consequences for Megan:

First, there were conspiracy theories that I was never shot. Then came the false narratives that my former best friend [Kelsey Harris] shot me. Even some of my peers in the music industry piled on with memes, jokes, and sneak disses, and completely ignored the fact that I could have lost my life. Instead of condemning any form of violence against a woman, these individuals tried to justify my attacker's actions.
Megan doesn't name any of her "peers in the music industry" who supported her attacker or joked about her pain, but I will: In 2021, shortly before his homophobic tirades cost him numerous opportunities, DaBaby—formerly Megan's friend and collaborator—brought out Lanez to perform with him on-stage. In 2022, Drake referenced Megan in a line suggesting she'd lied about getting shot ("This bitch lie about getting shot but she still a stallion"). Neither has apologized.
As a result of Lanez's social media activities and popular male rappers turning on Megan, popular hip hop blogs and fan accounts joined them, spewing a seemingly endless deluge of misinformation about the trial. In her essay in Elle, Megan recounted falling into a depression, wondering "if people even cared anymore" and, through it all, "smiling through the pain, still posting on social media, still performing, still dancing, and still releasing music." Heartbreakingly, she wrote that at the start of this "it never crossed my mind that people wouldn't believe me."
The case against Lanez was brought forward by the Los Angeles County District Attorney's office. As Megan noted in her essay she was the one who wanted to handle the situation privately. Still, she was framed as "falsely accusing" Lanez and purposefully trying to hurt him for clout and vengeance. When women come forward about the abuse they've faced, the public's response has increasingly relied on tactics of gaslighting and humiliation. Prior to Megan's trial, Amber Heard was widely mocked and inaccurately framed as her ex-husband's crazy abuser over the course of a highly publicized trial. Photos of Heard crying at the stand were converted into cruel memes; brands, celebrities, and influencers openly supported Johnny Depp and made Heard the butt of online jokes.
Ultimately, Megan wrote about Lanez's guilty verdict as a turning point, characterizing it as "more than just vindication for me" but "a victory for every woman who has ever been shamed, dismissed, and blamed for a violent crime committed against them." Through all the highs and lows of the last three years, the rapper says she's healing—and continuing to advocate for women and survivors. "As a society, we must create safer environments for women to come forward about violent behavior without fear of retaliation," she wrote. "We must provide stronger resources for women to recover from these tragedies physically and emotionally, without fear of judgment."