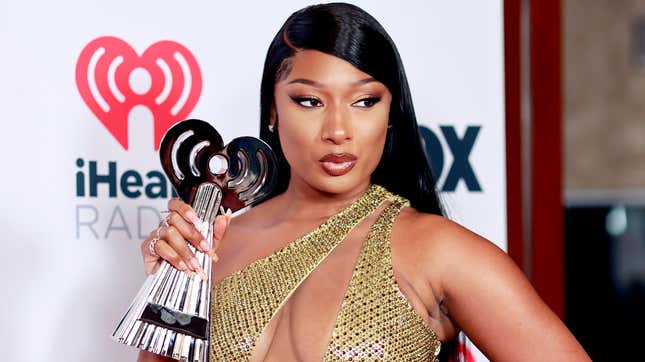 In "can men just leave Megan Thee Stallion alone" news, some men should've just left Megan Thee Stallion alone!

Taylor Swift's Rep Thinks You Need to Calm Down About Her Private Jet
DaBaby, who featured on the Houston rapper's "Cry Baby" and "Cash Shit," retweeted some dude's tweet making light of Tory Lanez shooting Megan last July, Vulture reports. DaBaby claimed he has no memory of retweeting said tweet, blaming the whole thing on "Illuminati shit," but Megan didn't buy it.
"Support me in private and publicly do something different," she tweeted on Saturday in an apparent subtweet of DaBaby. "These industry men are very strange. This situation [i.e., Lanez shooting her] ain't no damn 'beef,' and I really wish people would stop downplaying it like it's some internet shit for likes and retweets."
---
Steve-O made a sasquatch suit out of pubes, nature is healing, etc. [TMZ]
There's going to be a Cat Person adaptation with Emilia Jones and Nicholas Braun (a.k.a., the failson from Succession...perfect casting!!). [Deadline]
Ronnie Ortiz-Magro's ex, Jen Harley, was arrested in Vegas and booked for domestic violence and assault with a deadly weapon. It's unclear if Ronnie was involved, but the two do apparently own a home together in the area and have both been arrested for alleged violence against each other. [TMZ]
OK, love this: Nathan Apodaca, the skater who went viral for that video of him singing Fleetwood Mac on his board between swigs of cranberry juice, is apparently launching his own line of cranberry juice drinks, some of which will be alcoholic. [TMZ]
Lance Bass is gonna be a dad! [Hollywood Life]
Danielle Brooks is gonna play Mahalia Jackson! [Deadline]
Traci Lynn Johnson, who's married to retired Giants running back Tiki Barber, might be joining the Real Housewives of New Jersey. [Page Six]
Meadow Walker walked the F9 premiere red carpet to honor her late father and Fast and Furious franchise star, Paul Walker. [Today]
No thoughts just Trixie Mattel and Katya watching Legally Blonde: