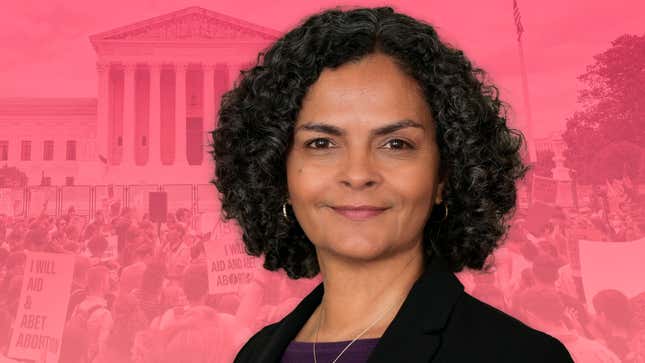 In two weeks, a 33-year-old woman named Kelsey Carpenter will go to court in San Diego, California, to seek the dismissal of murder and felony child abuse charges against her. Carpenter's alleged crime is a home birth that ended in her newborn's death after she went into labor early. She chose to give birth at home because she feared her baby would be taken from her due to her substance use. And instead of being offered addiction support services or time to grieve the loss of her baby, Carpenter now faces up to two decades in prison.

Blue States Aren't Necessarily Safe Havens for Abortion
Carpenter is one of dozens of clients receiving representation from attorneys at Pregnancy Justice, a nonprofit advocacy group that's just welcomed a new president, Lourdes Rivera, to help steer it through this muddy and volatile legal climate for reproductive rights. In a phone interview, Rivera told me about growing up in a Puerto Rican community and learning as a child about the legacy of forced sterilizations performed on women in her community. Since her upbringing in the 80s, Rivera—who led the Center for Reproductive Rights' U.S. programs through the Trump era—fears the conditions for all pregnant people have, in some ways, only become more dangerous.
"People are facing criminal charges for laws that are not even meant to be applied to pregnancy," Rivera said. "With the fall of Roe v. Wade and abortion bans, criminalizing the full range of pregnancy outcomes only gets easier."
Thus far in 2023, Pregnancy Justice has worked on 30 cases involving the policing and criminalization of pregnant people—the total number of cases it worked on throughout the entirety of 2022. And Rivera tells me the organization is "busier than ever post-Dobbs," having tracked 41 cases of pregnancy criminalization in 14 states since Roe fell last June. Over half of these cases come from Alabama, where a state "Chemical Endangerment of a Child" law meant to protect living children from home-based meth labs has been weaponized to criminalize or jail dozens of pregnant people—including one woman who smoked weed while suspected to be pregnant (though she ultimately wasn't).
Slightly more than a quarter of these criminal cases have involved pregnancy loss (including stillbirth, miscarriage, and abortion). Another quarter are charges brought during pregnancy, most commonly for alleged substance use. The remaining half involved a live birth, like Carpenter's case. The organization will publish a more comprehensive report on its tracking later this year.
Rivera notes that 38 states have feticide laws that were originally designed to protect pregnant people from violence, but have often been co-opted by anti-abortion advocates to criminalize them. Her organization in 2022 counted laws in 11 states that create broad fetal personhood rights. But most pregnancy-related criminal charges result from the misapplication of laws that actually have nothing to do with pregnancy. "This happens in every state, not just those with abortion bans," Rivera said. Abortion bans may "prime the pump for the prosecution of pregnancy," but at the end of the day, it's "really up to the local prosecutors."
Still, the fall of Roe and shadow of abortion stigma legitimize the idea of an embryo as a "baby" and the pregnant person as secondary to its rights and personhood, Rivera says. All of the pregnant person's behaviors—including behaviors that "wouldn't otherwise be criminal, were they not pregnant"—become subject to state surveillance and punishment. As Pregnancy Justice's outgoing president and founder Lynn Paltrow told The Cut earlier this month, "From the moment you become pregnant, you're endangering an unborn child."
Rivera previously worked with Paltrow as a law student working at the ACLU's Reproductive Freedom Project, and also served as a Georgetown Women's Law and Public Policy fellow with the National Women's Law Center, where she co-directed a project to ensure legal support for incarcerated women. Rivera's intersecting work within the legal movements for reproductive and criminal was formative to her career—and her understanding of the increasing policing pregnant people are facing in our post-Roe reality.
In recent years, Pregnancy Justice has offered legal advocacy to three different pregnant women who faced policing by the child welfare system after testing positive for drug use for consuming poppy seeds. This year, the organization is working on two new similar cases in New Jersey. All of the women were drug tested by their hospitals without their knowledge or consent. These cases, Rivera says, are "emblematic of how pregnancy automatically makes you vulnerable to new policing"—as well as the culpability of the medical system.
Experts have predicted the end of Roe will worsen the nation's long-running maternal mortality crisis. And according to Rivera, this is true not just because of the danger of denying or delaying emergency abortion care, but because more and more pregnant people fear they'll be drug tested, surveilled, or turned over to police for seeking care or disclosing drug use to get help.
Indigenous communities have faced jarringly high rates of nonconsensual drug testing targeting pregnant people for years, as well as the looming threat of pregnancy-related criminalization; as a result, many Indigenous pregnant people forego seeking life-saving prenatal care at all to protect themselves. "This, and the context of a long history of experimentation and distrust between the medical profession and communities of color, leads to disparate health outcomes," Rivera said. Under her leadership, Pregnancy Justice and over 100 other organizations are calling on the federal government to establish stronger protections for pregnant people's medical privacy—including prohibiting nonconsensual drug testing and reporting—under HIPAA.
Through these bleak realities a year without Roe, Rivera still points to sources for hope, like an Ohio Appeals Court ruling last month vacating a woman's conviction under the state's "Corrupting Another with Drugs" law for using drugs while pregnant, establishing that the law wasn't meant to be applied to pregnant people. Also last month, Colorado Gov. Jared Polis (D) signed into law a bill to allow judges and district attorneys to defer or delay the sentences of pregnant or postpartum people. "We're seeing that reproductive rights and justice aren't just a third-rail issue anymore," Rivera said.