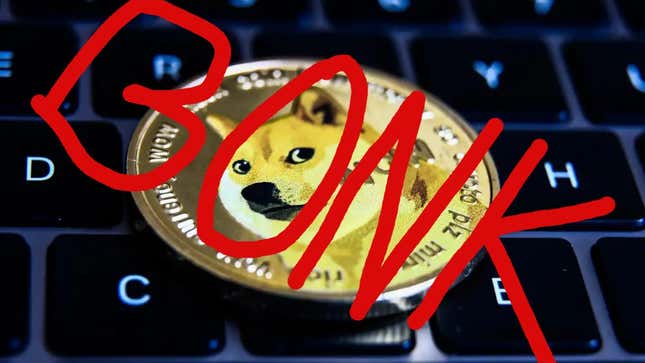 Beep, boop, BONK.

Unfortunately for myself, I am not glitching. "Bonk" is the sound of crypto traders' foreheads slamming against their desks as the icy crypto winter—in which everyone lost their moneybags—forges on. "Bonk" is the sound of the error message popping up on the screens of crypto owners trying to withdraw funds out of their flailing, now fraudster-owned FTX. And, according to Vice, "Bonk" is the sound of yet another doge-adjacent shitcoin popping up on the market, ready to pry cold hard cash out of the hands of fledgling Twitter incels.
The Johnny Depp and Amber Heard Defamation Trial Has Begun
BONK apparently launched on Solana in December, and calls itself a coin "for the people and by the people," though I think a more accurate slogan might be "for the plebes and by the cyborg billionaires." Their official document also straight out says they're a Dog-themed memecoin that lets "everyone get a fair shot." Vice reports that BONK's value has "pumped 2,500% since its launch," and is now worth…$0.00000258.
You'd think the crypto community would've learned its lesson after the demise of SHIB (short for…Shiba Inu) and DOGE—the one that disgraced, five-second Twitter CEO Elon Musk hyped on the social media platform, only to have the value plummet after he hosted Saturday Night Live. You'd also think developers would come up with better names, but again, you would be wrong. Maybe we should call this one THUD, instead. More accurate, no?

Not all crypto owners, you say! Who am I kidding, none of us are saying that. I just hope the impressionable 20-year-olds on Reddit aren't eating this shit up like a plate of chicken and waffles from Roscoe's, falling prey to paid ads from pseudo-crypto influencers like Kim Kardashian and Paris Hilton. Save your hard-earned money for more profitable investments, my darlings. Like Brad Pitt's depraved genderless skincare line. Or, simply be like Tom Brady and Gisele: Donate exactly 0.1 percent of your wealth to charity and no more.