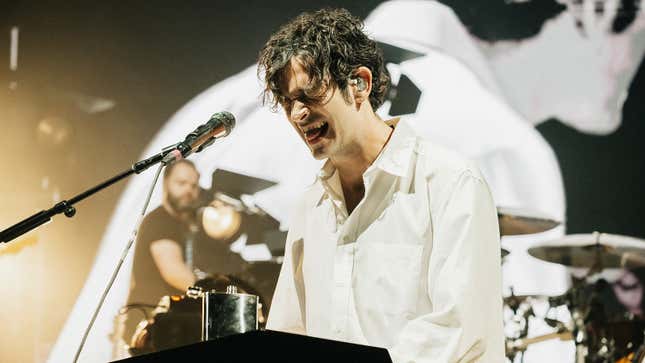 Kissing men onstage is in 1975 frontman Matty Healy's toolbox of provocation, but in his most recent same-sex lip lock, he may have bit off more than he can chew. During the band's gig Friday at the Good Vibes Festival in Malaysian capital Kuala Lumpur, Healy ranted about Malaysia's anti-LGBTQ+ laws and kissed his bandmate, bassist Ross MacDonald. Then the festival was promptly canceled as the result of Healy's words and behavior.
"​​I made a mistake," said Healy between songs. "When we were booking shows, I wasn't looking into it. I don't see the fucking point, right? I do not see the point of inviting the 1975 to a country and then telling us who we can have sex with. I'm sorry if that offends you, and you're religious, and it's part of your fucking government, but your government are a bunch of fucking retards. I don't care anymore. If you push, I'm gonna push back. I'm not in the fucking mood."
He went on for a few more minutes, referencing at one point speculation on TikTok about the way he held a child. Regarding playing in a country with anti-LGBTQ+ laws, Healy said, "I've done this before, and it doesn't feel good, and I'm fucked up," perhaps in reference to Dubai, where he kissed a man in the crowd in 2019. Healy's bandmate MacDonald then walked over to him and they locked lips for several seconds. Reuters reports that after playing some more music, Healy cut his band's set short, saying, "All right, we've got to go. We just got banned from Kuala Lumpur, I'll see you later."
The festival's cancellation was announced Saturday, with festival organizer Future Sound Asia (FSA) attributing it to "controversial conduct and remarks" in a statement. FSA claimed that the band agreed to follow performance guidelines, and "regrettably, Healy did not honor these assurances." The country's communications minister Fahmi Fadzil tweeted, "There will be no compromise against any party that challenges, disparages and violates Malaysian laws."
Though attention-grabbing, some pointed out that Healy may have done more harm than good. "As a malaysian queer, what matty healy and the 1975 did was WORSE for malaysian queers. Now we are gonna have tolerate the political shitstorm thats about to happen while they are fine getting drunk in another country. This wasn't their fight," went one of many backlash-to-the-backlash tweets.
Academic James Chin, an expert on Malaysia, told the Washington Post: "Among the Muslim communities of Southeast Asia, they see LGBT rights as part of this Western agenda to impose cultural values on other countries, especially Muslim countries...One of the problems with trying to promote these sorts of things around the world is that without the local context, you tend to get it wrong."
For Healy's part, he followed up his display on Instagram on Saturday, posting, "Ok well why don't you try and not make out with Ross for 20 years. Not as easy as it looks."
Not as cute as he thinks he is!
---
Need a palate cleanser? Try some Cherlato!
Yep, this is real. But don't take my word for it, take it from Cher herself, who in the caption for this video posted to Instagram, wrote: "Yep, This Is Real…. I'm Launching My Gelato…. Watch Out LA‼️ All Started 5 Years Ago And Now It's Finally HAPPENING 💃 More To Come…." Could it possibly be as fun to eat as its name is to say, though?
---
Barbie and Oppenheimer dominated the weekend box office, with domestic grossness of $155 million and $80.5 million, respectively. Among the many records broken, Barbie now boasts the biggest opening weekend for a movie directed by a woman. [Deadline]
Oppenheimer star Cillian Murphy called his sex scenes with Florence Pugh "fucking powerful." They were no a-bomb or anything, but let him have this. [Page Six]
Doja Cat to fans who want to call themselves her "kittenz": "Get a job." [TMZ]
Jamie Foxx speaks! [Instagram]
Love this headline: "Chrissy Teigen Shares Video of Son Wren's First Ever Smile: 'Finally.'" Love to read that "finally," in a flat, sing-songily annoyed way, like how you might say it to someone who finally got out of the bathroom after you'd been waiting in line for 10 minutes. Finally. [People]