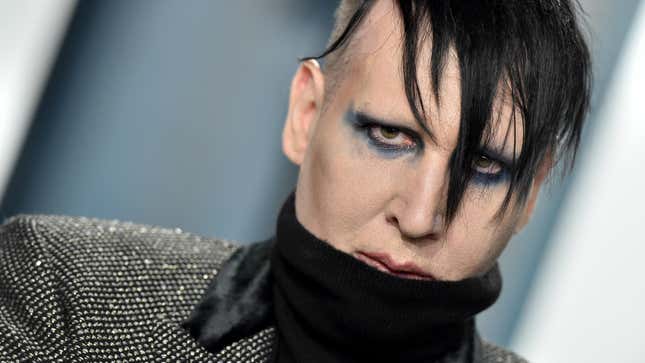 Model Ashley Morgan Smithline, who accused Marilyn Manson (née Brian Warner) in 2021 of rape and physical abuse along with five other women and then dropped the lawsuit under mysterious circumstances last month, now says she only made the allegations because she felt pressure from fellow accuser Evan Rachel Wood. Smithline wrote in a statement obtained by PEOPLE, "I succumbed to pressure from Evan Rachel Wood and her associates to make accusations of rape and assault against [Manson] that were not true."
Crush of the Week: Daniel Radcliffe's Weird Al
The magazine, which first reported Smithline's allegations, noted that it had "corroborated her story with multiple sources for our May 17, 2021 cover story," but that "Smithline says she felt 'pressured' by her attorney to speak about her accusations in a press tour."
In May 2021, Smithline had told PEOPLE, "I have bonded with the five other girls who went through this, and we have found such a strength in numbers." Those five women included Wood, whose documentary about the allegations, Phoenix Rising, aired on HBO Max in 2022 and featured interviews with Smithline. "Meeting the other girls, we all felt the same thing," Smithline said at the time.
Rich Juzwiak detailed the accusations from that documentary in a story for Jezebel, including that Warner allegedly raped Wood on camera during a film project of his:
"I was coerced into a commercial sex act under false pretenses," says Wood of the video shoot. "That's when the first crime was committed against me. And I was essentially raped on camera." Wood's mother says that her daughter was inebriated on the set of the video.
Wood alleges that the first time Manson was violent with her happened on tour, after he had drunk nearly a whole bottle of liquid Vicodin. She said he grabbed her by the arm and yanked her through the lobby of a hotel. Once in the room they were to share, he began to trash it.
In 2018, Wood testified before a House Judiciary Subcommittee that she had experienced "threats against my life, severe gaslighting and brainwashing, waking up to the man that claimed to love me raping what he believed to be my unconscious body" by an abuser that she did not name at the time. Many assumed it was Manson, and in Phoenix Rising, she explicitly connects him to the allegations. After her testimony, Wood says, she heard from many women alleging abuse from Manson. As of late last year, some 16 women had accused the musician of sexual abuse and battery.
Curiously, after Wood's documentary aired, another one of the accusers in it, actress Esmé Bianco, settled out of court with Warner in January. Bianco had accused Warner of using "drugs, force and threats of force" to rape and commit "sexual acts" with her while she was unconscious or unable to consent, but then: "Ms. Bianco has agreed to resolve her claims against Brian Warner and Marilyn Manson Records, Inc. in order to move on with her life and career," her attorney, Jay Ellwanger, said.
Since then, however, a sixth woman has come forward accusing Warner of having raped her multiple times when she was 16, starting on his tour bus after she attended one of his shows.
"While on the tour bus, Defendant Warner performed various acts of criminal sexual conduct upon Plaintiff, who was a virgin at the time, including but not limited to forced copulation and vaginal penetration," the lawsuit reads. "One of the band members watched Defendant Warner sexually assault Plaintiff," it continues. "Plaintiff was in pain, scared, upset, humiliated and confused. After he was done, Defendant Warner laughed at her...Then Defendant Warner demanded Plaintiff to 'get the fuck off of my bus' and threatened Plaintiff that, if she told anyone, he would kill her and her family."
It's certainly possible that some or all of these women were inventing very similar tales of sexual, physical and psychological abuse by Warner to take advantage of the #MeToo movement. But given the volume of accusers here, it's also quite possible that his legal team is just offering an amount of money that's more attractive than going through the demoralizing legal process of accusing a very famous man of abuse—as long as they're willing to help clear his name.
A representative for Wood strongly denied the narrative that she manipulated Smithline into accusing Warner of rape in a statement to PEOPLE.
"Evan never pressured or manipulated Ashley. It was Ashley who first contacted Evan about the abuse she had suffered," the statement read. "It's unfortunate that the harassment and threats Ashley received after filing her federal lawsuit appear to have pressured her to change her testimony."