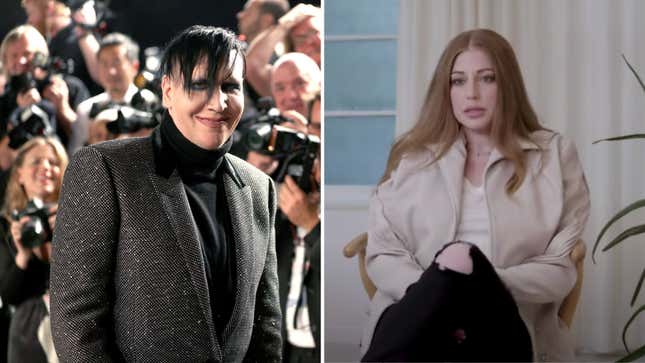 In May 2021, model, aspiring actor, and Marilyn Manson accuser Ashley Morgan Smithline told People magazine, "I have bonded with the five other girls who went through this, and we have found such a strength in numbers." Those other women included Evan Rachel Wood, whose documentary about the allegations against Manson (aka Brian Warner), Phoenix Rising, aired on HBO Max in 2022 and featured interviews with Smithline. "Meeting the other girls, we all felt the same thing," Smithline said.
Watch Alex Jones Realize He's About to Get Busted For Perjury
Now, nearly two years later, Smithline appears to have stopped pursuing sexual abuse charges against him. According to Page Six, a California judge on Tuesday tossed out her lawsuit against Manson because she has failed to replace her former legal counsel. Last month, after her attorney, Jay D. Ellwanger, filed a motion to withdraw himself from the case, Smithline was advised to find new representation. Curiously, she didn't.
Unsettlingly, when contacted by Page Six, Manson's attorney applauded her apparent decision. "We thank and commend Ashley Smithline for dismissing her claims against Brian Warner without seeking or receiving anything in return," Howard King said. "Ms. Smithline has refused to be manipulated by others who are trying to pursue their own agendas against Mr. Warner. We wish her well and will continue to work to assure that a significant price will be paid by those who have tried to abuse our legal system."
Manson's legal team also provided Page Six with a series of private text messages between Smithline and Ellwanger regarding the latter's withdrawal from the case, though how Manson's attorneys got ahold of those messages remains very unclear.
The texts seem to show Smithline abruptly discharging the attorney in September 2022. Ellwanger responded with concern, suggesting someone other than Smithline was doing the typing.
"Ashley it's not that simple," Ellwanger appears to have written. "You have a federal court lawsuit pending. I'm not sure who is writing these text messages but it doesn't sound like you. We need to speak on the phone."
"I am honestly very concerned about you—this is all very different behavior than I have ever seen from you and I've known you for over a year," another text reads. Throughout 2021, Smithline and Ellwanger gave countless interviews together, accusing Manson of sexual, physical, and psychological abuse.
"I woke up bound and he was having sex with my unconscious body," Smithline told The View of Manson in June 2021, with Ellwanger by her side. "That was my first experience and then from there, the abuse just worsened. I was dehumanized, I was degraded, I was treated like an animal."
"If you're going to be an abusive psychopath, be original. And he wasn't," she further told People, of the "identical" and "disgusting" allegations she shared with Manson's fellow accusers. "I survived a monster," Smithline said.
It can't be overstated that, since the allegations were made public, Manson has rigorously attempted to undermine his accusers—even taking a page from pal Johnny Depp's playbook by filing a defamation suit against two of them for publicly speaking out. In November 2022, Manson also claimed the allegations have left his career "in the gutter" and he's since received death threats.
Smithline could not be reached for comment, but something isn't adding up here.
---