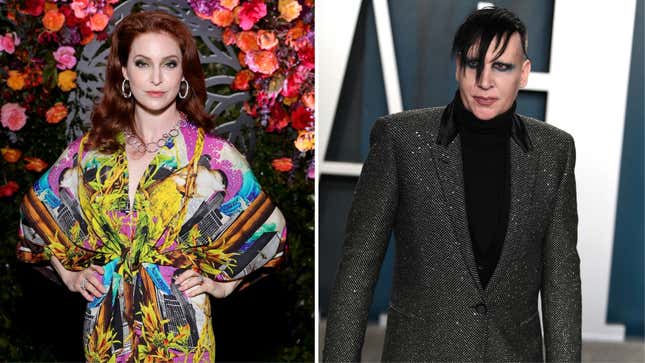 Esmé Bianco is one of more than a dozen women who've alleged Marilyn Manson (Brian Warner) physically, sexually, and psychologically abused them while in a relationship with him. In April 2021, Bianco sued Warner for rape and sexual battery, claiming that during their relationship he "used drugs, force and threats of force" to rape and commit "sexual acts" with her while she was unconscious or unable to consent. On Tuesday, Rolling Stone reported that Bianco and Manson have settled out-of-court.
Dirt Bag of the Week: Katharine McPhee
"Ms. Bianco has agreed to resolve her claims against Brian Warner and Marilyn Manson Records, Inc. in order to move on with her life and career," her attorney, Jay Ellwanger, told the publication. Warner's attorney, Howard King, gave a similar statement.
In the suit, the sexual acts are detailed as "spanking, biting, cutting, and whipping Ms. Bianco's buttocks, breasts, and genitals for Mr. Warner's sexual gratification — all without the consent of Plaintiff." Bianco also alleged that he and his former manager, Tony Ciulla, violated human-trafficking laws by flying her from London to Los Angeles under the guise of starring in both a music video and a film that were never released. Ciulla's name was later removed from the suit.
Alongside actress and fellow survivor Evan Rachel Wood, Bianco authored the Phoenix Act, a bill that would increase the statute of limitations on domestic violence crimes. In 2019, she appeared before the California Assembly Public Safety Committee and shared her testimony in its entirety on Medium. "I know I will never see justice for what happened to me, but I am here, risking my safety and that of my family, to respectfully ask you to vote yes on this bill and give thousands of survivors a chance to seek the justice they deserve," Bianco testified.
The settlement arrives just weeks after another model, aspiring actress, and Manson accuser Ashley Morgan Smithline stopped pursuing sexual abuse charges against him. As Jezebel reported in early January, a California judge tossed out Smithline's lawsuit against Manson because she failed to replace her former legal counsel. In December, after her attorney (the same as Bianco's) filed a motion to withdraw himself from the case, Smithline was advised to find new representation. Curiously, she didn't.
"We thank and commend Ashley Smithline for dismissing her claims against Brian Warner without seeking or receiving anything in return," Howard King said. "Ms. Smithline has refused to be manipulated by others who are trying to pursue their own agendas against Mr. Warner. We wish her well and will continue to work to assure that a significant price will be paid by those who have tried to abuse our legal system."
Disturbingly, Ellwanger appeared concerned for Smithline's abrupt decision to refrain from pursuing legal recourse in a series of text messages. "I am honestly very concerned about you—this is all very different behavior than I have ever seen from you and I've known you for over a year," he wrote to her in 2022.
Manson has denied all allegations. He's also rigorously attempted to undermine his accusers—even taking a page from pal Johnny Depp's playbook by filing a defamation suit against two of them (Wood and Ashley Gore) for publicly speaking out and producing the HBO documentary, Phoenix Rising.