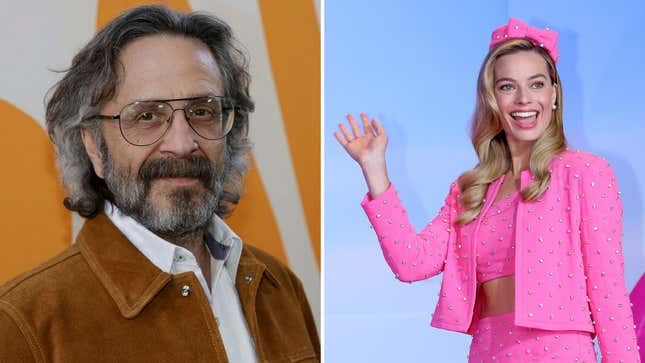 Marc Maron has had enough of the conservative men roasting Greta Gerwig's Barbie.

Who is Ken and What is "Ken-ergy"?
In a review on TikTok, in which an up-close-and-personal Maron looks as though he's Doomsday prepping in an underground bunker somewhere, the comedian admitted that he wasn't exactly excited to see the film and didn't know what to expect. But he was surprised (not that we necessarily need another man's take on this film) to find that Gerwig's commentary on today's men via Ryan Gosling's avatar Ken was spot on.
"...the comedy about men is inspired and the fact that certain men took offense to the point where they, you know, tried to build a grift around it in terms of their narrative as right-wing [bleeped] is so embarrassing for them," he said.

"I mean, so embarrassing for them. Any dude that can't take those hits in that movie, they've really got to look in their pants and decide what they're made of," he added. "I mean, Jesus Christ, what a bunch of fucking insecure babies."

Maron, of course, is referring to "fucking insecure babies" such as Matt Gaetz and his wife, who were upset to find "disappointingly low T from Ken," and Ben Shapiro, who lit up some Barbies in a trash can and predicted the film was "absolutely going to fall off a cliff [at the box office]…repeat business is going to be nonexistent." (For the record, on Monday, CNBC posited that Barbie could very likely end up raking in $1 billion in global revenue.) And of course, we can't forget Sen. Ted Cruz (R-Texas), who insisted that Barbie pushes Chinese propaganda on kids.

As for Maron's opinion? "I saw Barbie and I thought it was a fucking masterpiece. And like, I don't throw that word around lightly, but, Jesus Christ," Maron said. "It's like it does a fairly amazing thing to create a sort of broad-based entertainment product that applies to the entire spectrum—I think primarily of women—and then just seep it in progressive politics and basic feminism in a way that's funny, informative, and well-executed in a context that is completely engaging is fucking monumental."
If only the Wall Street Journal could take a cue from this man.
---