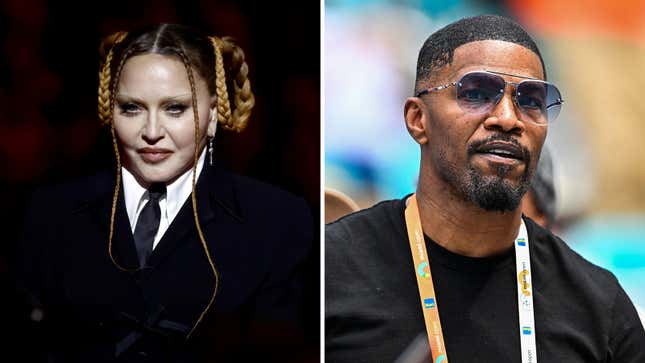 Sightings: They're not just for Bigfoot! It appears that Madonna and Jamie Foxx are on the mend—or at least not strictly bedridden after being temporarily taken down by health issues. Both were spotted in the wild this weekend. There are a lot of issues with the surveillance state, but at least in this case it can provide the nosy, celebrity-obsessed among us with peace of mind.
Cameron Diaz Almost Had a Very Different Career
Madonna—who suffered a bacterial infection in June, according to her manager, requiring her Celebration Tour to be put on hold (and, according to more recent reports, who was revived with Narcan)—was seen walking the streets of New York on Sunday, according to podcaster Lauren Conlin, who uploaded a TikTok featuring still images of the singer.
Page Six adds for context that its spies said "she looked happy and chatted with a blonde pal as they wandered on a hot Sunday afternoon. She seemed to have no trouble walking, though seemed to be taking her time." She was spotted outside the Blank Street Coffee on East 80th Street and Lexington Avenue, near her palatial Upper East Side home. Neat!
Meanwhile, TMZ published footage of Jamie Foxx on a "mega-boat on the Chicago River Sunday afternoon." This is the first time he's been spotted after his April hospitalization for a "medical complication," as his daughter put it in an Instagram announcement.
To its report, TMZ added: "We've seen more footage of Jamie spending a night out on the town in the Chicago area Saturday, getting active on his feet, no less, and looking to be in great spirits there too."
Well that's just great. Two people we know and love who previously were not upright now are.
---