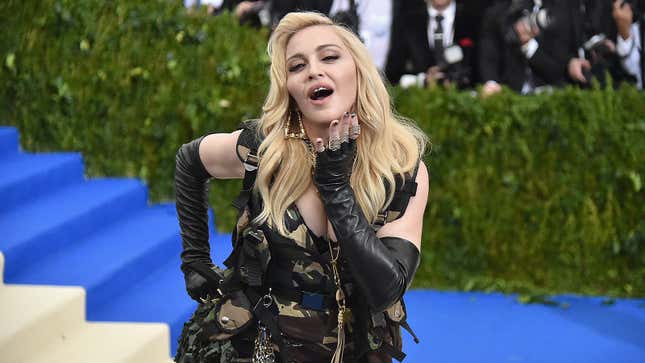 An unconfirmed and anonymously sourced exclusive story on gossip site Radar about Madonna's recent health scare lit up the internet Thursday. The headline was shocking: "Madonna Was Revived by Narcan Injection: Terrifying New Details Reveal Queen of Pop 'Had to Be Brought Back From The Dead.'" The story itself was weird; it claimed, via "sources," that "Madonna's brush with death was far worse than anyone knows" and that "those who discovered her lifeless body were forced to administer a NARCAN injection." The headline and opening paragraphs, of course, suggest that Madonna had suffered a drug overdose, but that's not the case, claims Radar—she was actually administered Narcan for septic shock, "a condition Madonna is said to have suffered." Radar adds: "There is nothing at all to suggest the hitmaker needed NARCAN for the ill effects of any drug use." Hmmm!
It's a very odd bait and switch. Initially, the article seems to want to poke holes in the claims of Madonna's manager, Guy Oseary, who posted on Instagram June 28 that Madonna had "developed a serious bacterial infection which led to a several day stay in the ICU," leading to the postponement of her Celebration Tour, which had been set to begin July 15. Page Six then followed up with a report that Madonna had been found unresponsive and had to be intubated. Some outlets in their subsequent reporting placed "bacterial infection" in scare quotes, as if to question whether Oseary's claim was entirely honest.
But then, Radar went on to assure us that, no, it definitely wasn't drugs. Many doctors and medical professionals on Twitter pointed out that Narcan is not typically used in septic shock cases.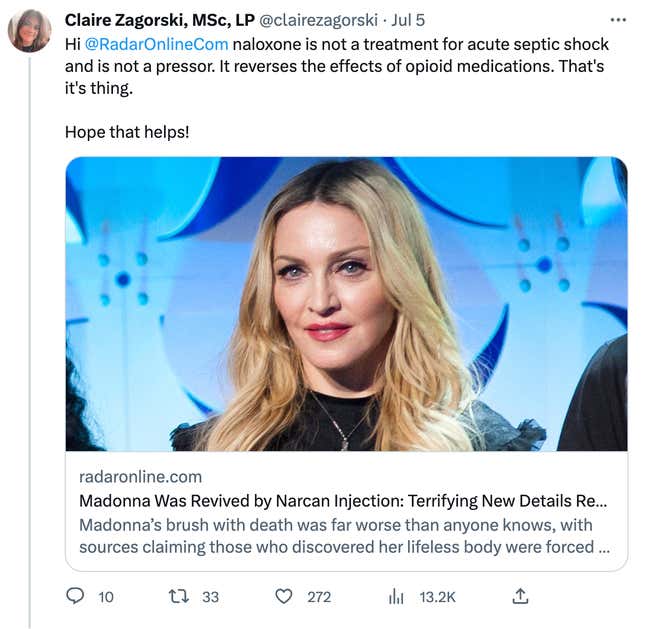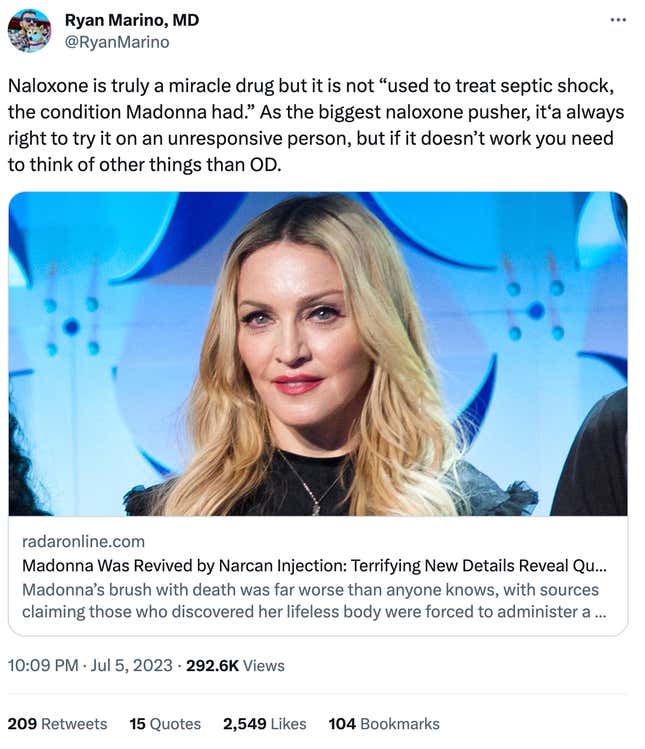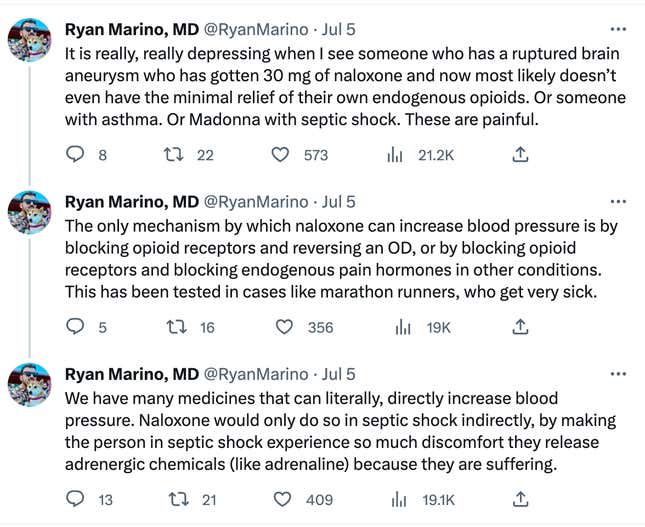 Pfizer, a manufacturer of naloxone, the active drug in Narcan, notes on its website, "Naloxone has been shown in some cases of septic shock to produce a rise in blood pressure that may last up to several hours; however this pressor response has not been demonstrated to improve patient survival." It continues:
In some studies, treatment with naloxone in the setting of septic shock has been associated with adverse effects, including agitation, nausea and vomiting, pulmonary edema, hypotension, cardiac arrhythmias, and seizures. The decision to use naloxone in septic shock should be exercised with caution, particularly in patients who may have underlying pain or have previously received opioid therapy and may have developed opioid tolerance.

Because of the limited number of patients who have been treated, optimal dosage and treatment regimens have not been established.
So what's going on here? Some potential scenarios:
Radar's story is straight-up false.
Radar's headline stating that Madonna was "revived" by Narcan is misleading, though she was administered it in the process of getting her body back online.
Madonna was administered Narcan but not because of septic shock, and either bad sourcing or some kind of interference from conflicting sources resulted in a confused report.
Not for nothing, but Madonna herself has made comments suggesting that she takes opiates. Namely, on an October 2021 episode of The Tonight Show, she told Jimmy Fallon when he asked her about her vices, "I like opiates." Fallon, instead of doing his job and asking a follow-up question (even a "HUH?" would have worked), laughed and called her ridiculous. (The embedded video should jump to that section, but if it doesn't, it's around 3:37.)
There was also a TikTok posted around the same time in 2021 as the Fallon interview, in which Madonna said that she was in pain and as a result, "I need a drip."
Maybe these are just jokes, delivered matter-of-factly and with no seeming punchline! But it seems much more likely that someone who said, in public, "I like opiates," would be administered Narcan for related reasons rather than for septic shock—if Madonna was, in fact, administered Narcan at all. It's all extremely strange.