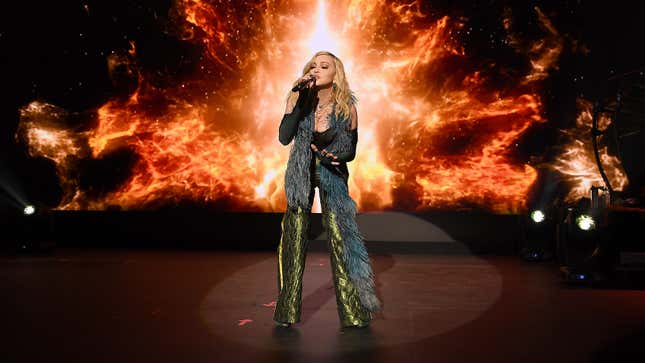 Madonna took a reported two months off following a health scare on June 27 in which she was found unresponsive and rushed to a New York City hospital—officially, she suffered from a "serious bacterial infection." But now, she is back on her feet and apparently, they're dancing.
Britney Spears Escapes Family Drama By Going to First Bar
An anonymous source told People that, "She returned to rehearsals last Monday," which would have been August 28, almost two months to the day after her scare. The rehearsals are for her upcoming Celebration Tour, which was originally supposed to kick off July 15, but following the scare, had its itinerary revised and its opening date pushed back to October 14 in London.
The source continued: "She's so happy to be back onstage and is feeling strong. She's working closely with her longtime collaborators, Jamie King and Stuart Price, to put the final touches on the show." And also: "She enjoyed her birthday in Lisbon with all her kids and close friends. Now she's back in work mode and focused on the tour. This is where she thrives. She loves being back in a creative environment."

On Tuesday, Madonna posted a "rehearsal photo dump" on Instagram featuring pictures of her both on and off stage and a heart-accented banner that reads "we missed you so much."
Madonna's supposed infection reportedly required intubation. A follow-up, anonymously sourced report also suggested that the Queen of Pop was administered NARCAN for septic shock, which is...not what NARCAN is typically used for.
Nonetheless, she's shown signs of life over the course of the summer, regularly updating her Instagram (her first post-hospital post was a note on July 10, in which she thanked fans for their support). Last week, TMZ posted a picture of the singer riding her bike in Central Park, reportedly with friends and her personal trainer.
People's source added that Celebration is Madonna's "most ambitious tour ever," which are big words for the woman responsible for redefining the arena show repeatedly with blockbusters like the Blond Ambition World Tour, the Re-Invention World Tour, and her Confessions Tour. If she can pull it off, Celebration will be a comeback fit for an icon.
---
Speaking of Madge, to quote something she once said about Courtney Love...
The Chainsmokers are in dire need of attention right now.
---